Keith Carter
Keith Carter at Esther Massry Gallery. There is just a week left to see the Keith Carter exhibition at The College of Saint Rose's Esther Massry Gallery; it was closed for winter break and will be open again from Jan. 11 through Jan. 17, so try to catch it if you can (location, directions, and hours are available here).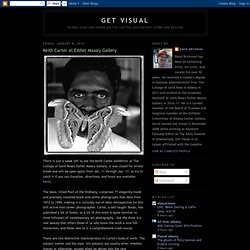 The show, titled Poet of the Ordinary, comprises 77 elegantly made and precisely installed black-and-white photographs that date from 1972 to 1999, making it a curiously out-of-date retrospective for this still active mid-career photographer. Carter, a self-taught Texan, has published a lot of books, so a lot of this work is quite familiar to close followers of contemporary art photography - but the show is a real beauty that offers those of us who know the work a nice full immersion, and those new to it a comprehensive crash course. There are two distinctive characteristics to Carter's body of work: The subject matter and the style. Keith Carter Technique - Photo.net Medium Format Forum.
Michael Kravit , Jun 24, 2003; 05:41 p.m.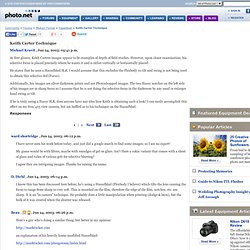 At first glance, Keith Carters images appear to be examples of depth of field studies. However, upon closer examination, his selective focus is placed precisely where he wants it and is either vertically or horizontally placed. He states that he uses a Hasselblad SLR. I would assume that this excludes the Flexbody so tilt and swing is not being used to obtain this selective dof (Focus). Spoken Word: Keith Carter – A Certain Alchemy | Workprints. Radio Flyer © Keith Carter *note: this interview was published in the first issue of the aforementioned ISO magazine I have discovered a place where dreams are alive, where dancing bears and checkered walls are found among wizards and floating boys.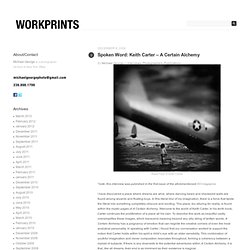 In this literal blur of my imagination, there is a force that twists the literal into something completely obscure and exciting. This place, too alluring for reality, is found within the mystic pages of A Certain Alchemy. Interview with Keith Carter.
---