Couchsurfing
SUPERMARMITE - Ca mijote pres de chez vous !". TableSurfing.com. Spécialités culinaires, plats typiques, manger chez l'habitant - Livemyfood ! Now this is possible with Livemyfood.com - the most delicious of culinary social networks!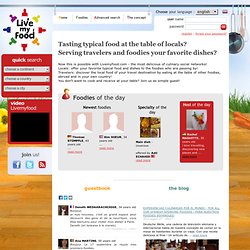 Locals: offer your favorite typical food and dishes to the foodies who are passing by! Travelers: discover the local food of your travel destination by eating at the table of other foodies, abroad and in your own country! You don't want to cook and receive at your table? Bruno GARCIA. What do these numbers mean?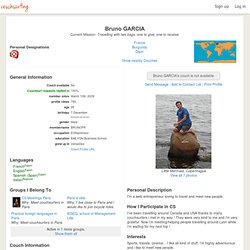 This summary is not a replacement for reading references; it's a quick summary to help you get started. At a glance, you can see how many references a member has, and how many of them are positive, neutral, and negative. In the second line, you'll see how many references came from people who hosted this member, surfed with them, and traveled with them. These numbers won't always add up to the total: some references are not categorized, and some may be categorized as more than one thing.
---