Brotherwolf
I started sorytelling when I was 5 and never stopped.
Yellow Springs, Ohio
Brother Wolf Storyteller | Facebook
Great show Sunday night - here are some of the things the audience left on my typewriter... left by real audience members after the show. -Great Show has lots of fun (lunch crowd actors were wonderful) Thank you! -It was stupendous, fun a...nd an interactive audience experience!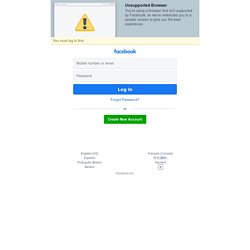 Ohio Order for the Preservation of Storytelling
IPAY: International Performing Arts for Youth
OAPN : Home Page
9 a.m. – Opening Ceremony Eric Wolf provided a number of colorful silk scarves, along with an invitation to create a focal point in the center of the yurt. One by one, we added color, texture and shades of meaning with the scarves, stones we brought from home, and objects found in the yurt. The soft, colorful scarves provided the feeling of flow and motion, anchored by the stones and other objects added to this centerpiece. Textures and symbolism were provided by a large exercise ball, a tall drum, a stone goddess figure, part of an animal's skull, a painted gourd and a lampshade. 9:20 a.m. -- Acceptance of Schedule All present agreed to the schedule as proposed
Eco-tellers Retreat 2010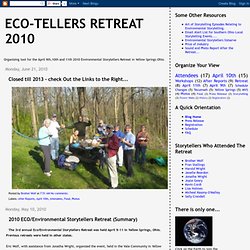 Brother Wolf (Ericwolf2) on Twitter
Follow the Money
When Standard & Poor's warned it would lower the U.S. government's AAA credit rating by one or more levels even if Congress raised the debt limit in time to avert a default, all sorts of dire predictions were made about the monetary system. One predictions was that if Standard & Poor's lowered their rating to AA+ that such an action would "modestly raise" the federal government's borrowing costs. That did not happen. Another prediction by Fitch Ratings was that "As money market funds hold approximately $1.3 trillion in U.S.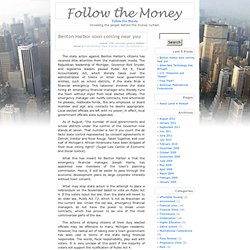 The Art of Storytelling Show
National Storytelling Network
Miami Valley Storytellers
Hi - Dear Friends from Ms **** Classroom. I wish I has a the time to answer all your questions by mail - individually – I have created a list of answers to many of the questions that you have sent in your letters - Please free to share them with others in your school as you wish. When did you first know you were dyslexic? What grade where you when you found out your dyslexic? When I was in 2nd grade I had fallen so far behind the other students that the school system told my parents they wanted to place me in special education classroom.
Teh Dyslexic Storytellers Blog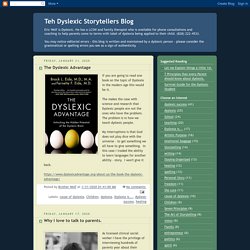 Our trip to Southern Italy.
there were two people who met, fell in love and got married. Instead of presents, they asked for help honeymooning in Italy. This is our site all about our families adventure.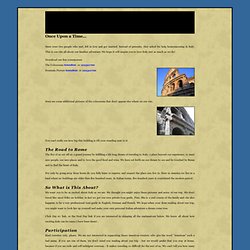 www.ericwolf.org/scary/ Brother Wolf holds his audience safe during the telling of his scary stories. Every scary storytelling teaches a lesson and holds a gift for the listeners.
Home site for Ohio Storyteller Eric James Wolf - Brother Wolf Storytelling.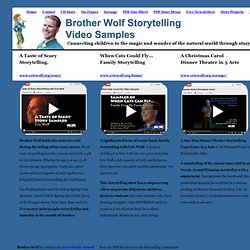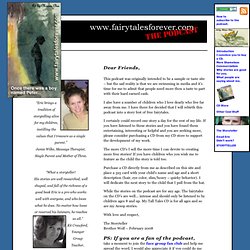 "Eric brings a tradition of storytelling alive for my children, instilling the values that I treasure as a single parent." Jamie Wilke, Massage Therapist, Single Parent and Mother of Three. "What a storyteller!His stories are well researched, well shaped, and full of the richness of a good book Eric is a pro who works well with everyone, and who loves what he does. No matter how loose or reserved his listeners, he reaches us all." Kit Crawford, Younger Group Teacher, Antioch School
Fairytales Forever your source for original fairy tales for modern children.
National Storytelling Network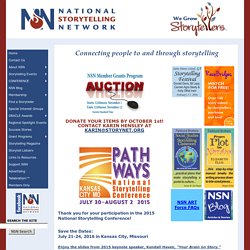 The National Storytelling Network is dedicated to advancing the art of storytelling – as a performing art, a process of cultural transformation, and more. NSN is a member-driven organization, with a Board of Directors from seven regions across America. We offer direct services, publications and educational opportunities to individuals, local storytelling guilds and regional associations. These services are designed to promote storytelling everywhere – in entertainment venues, in classrooms, organizations, medical fields, families, and wherever else storytelling can make a contribution to quality of life. National Storytelling Conference