Clothing
Denim1001. The Discerning Brute: fashion, food & etiquette for the ethically handsome man. GOTSTYLE | Mens Clothing Store, Toronto | Custom Suits, Tuxedos. Fucking Young! TSBmen - the new home of The Style Blogger. Details Style Network - Men's Fashion, Grooming, and Design. Three of the Best: Tortoiseshell sunglasses. | Ape to Gentleman | Male Grooming Blog | Mens Fashion & Lifestyle.
Three of the Best: Tortoiseshell sunglasses.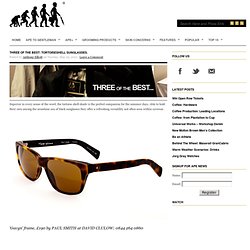 Posted by Anthony Elliott on Tuesday, May 29, 2012 · Leave a Comment Superior in every sense of the word, the tortoise shell shade is the perfect companion for the summer days. Able to hold their own among the mundane sea of black sunglasses they offer a refreshing versatility not often seen within eyewear. For the Young Dude - Part 2. GtheGentleman. Suit Swag. Put This On. Pure evil. Sartorial Developer. Know The Details. DapperLou.com | Men's Fashion Blog | Street Style. Por Homme - Men's Fashion, Footwear, Culture, and Lifestyle Magazine. Grungy Gentleman. Suitored - Men's Suits, Ties, FormalWear, Dress Shirts, Cufflinks, Sport Coats, Slacks, and Clothing Care. Beautiful Women, Men's Fashion, Best Music, Drink Recipes. The Madbury Club :: "Welcome To The Club." -
GQ Magazine Online: Look Sharp, Live Smart.
---