Clothing
Last week we sat back and watched some great menswear brands take centre stage at London Collections: Men. In the midst of all those brands we were hard pressed to pick our favourites let alone the trends we loved the most. Fortunately, the good people at GQ inadvertently helped us out. Their latest article "10 Things We Learned From London Collections: Men" perfectly sums up everything we'd love our customers to know for the coming season.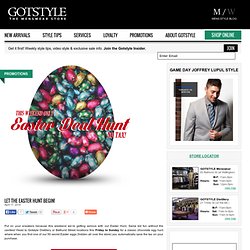 GOTSTYLE | Mens Clothing Store, Toronto | Custom Suits, Tuxedos
Fucking Young! x Niels Peeraer limited edition As we promised six months ago, every issue of the magazine will be accompanied by a limited Edition object in support of emerging talent.
Fucking Young!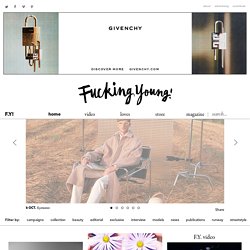 TSBmen - the new home of The Style Blogger
Details Style Network - Men's Fashion, Grooming, and Design
Three of the Best: Tortoiseshell sunglasses. Posted by Anthony Elliott on Tuesday, May 29, 2012 · Leave a Comment Superior in every sense of the word, the tortoise shell shade is the perfect companion for the summer days. Able to hold their own among the mundane sea of black sunglasses they offer a refreshing versatility not often seen within eyewear.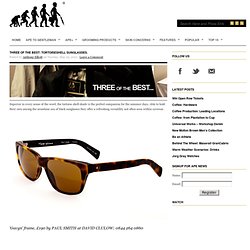 Three of the Best: Tortoiseshell sunglasses. | Ape to Gentleman | Male Grooming Blog | Mens Fashion & Lifestyle
For the Young Dude - Part 2
GtheGentleman
Suit Swag
Ralph Lauren announced last week that they plan to discontinue Rugby after this season. I admit many of Rugby's offerings were a bit overstylized for my taste, but one thing I'll miss is their affordable brushed Shetland sweaters. The original brushed Shetlands were invented by Irving Press of J. Press fame. At the time, Mr. Press had a close relationship with the principal of Drumohr, one of the more renowned knitwear manufacturers in Scotland, and together, they devised a way to make J.
Put This On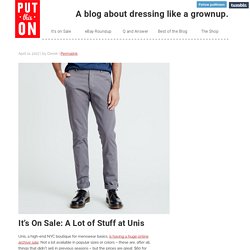 pure evil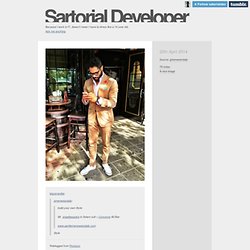 Sartorial Developer
Business Casual aka Dressing to Meet the "Parents"I can just hear it - FINALLY …One of the most common questions I receive is how to execute "business casual."For me, this is very much like going to meet your partner's parents for the first time (worse still is if it's at their home). If you think "business casual" is difficult, imagine what dressing for this would be like. How you dress will be as much a reflection of your partner as it will be of you, so if you're not well prepared, you should understand the consequences that will come. It's really that simple.Here are the basics I always follow:Choose a sports coat of a heavier weight than your pants. The pattern should also contrast.Choose pants that can be worn sans sports coat.ALWAYS wear a button-up shirt.
Know The Details
DapperLou.com | Men's Fashion Blog | Street Style
Fine And Dandy Shop: Dandies Online: GQ
Por Homme - Men's Fashion, Footwear, Culture, and Lifestyle Magazine
Grungy Gentleman
Suitored - Men's Suits, Ties, FormalWear, Dress Shirts, Cufflinks, Sport Coats, Slacks, and Clothing Care
Beautiful Women, Men's Fashion, Best Music, Drink Recipes
The Madbury Club :: "Welcome To The Club." -
GQ Magazine Online: Look Sharp, Live Smart