Recipeeessssss
Meal Makeover Moms' Kitchen. I love to cook for a crowd, especially when that crowd happens to be watching me on TV.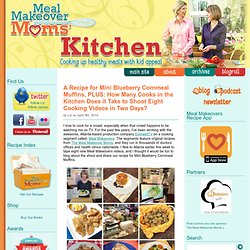 For the past few years, I've been working with the awesome, Atlanta-based production company EverwellTV on a cooking segment called, Meal Makeovers. The segments feature original recipes from The Meal Makeover Moms, and they run in thousands of doctors' offices and health clinics nationwide. 25 Healthy Meals in 20 Minutes or Less. Thanks for visiting Raise Healthy Eaters.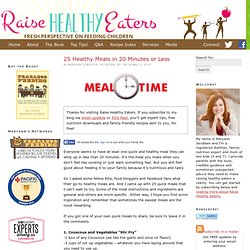 If you subscribe to my blog via email updates or RSS feed, you'll get expert tips, free nutrition downloads and family-friendly recipes sent to you, for free! Everyone seems to have at least one quick and healthy meal they can whip up in less than 20 minutes. It's the meal you make when you don't feel like cooking or just want something fast. But you still feel good about feeding it to your family because it's nutritious and tasty. Family Dinners: Slow Cooker White Bean Chicken Chili. Thanks for visiting Raise Healthy Eaters.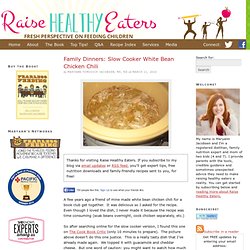 If you subscribe to my blog via email updates or RSS feed, you'll get expert tips, free nutrition downloads and family-friendly recipes sent to you, for free! A few years ago a friend of mine made white bean chicken chili for a book club get together. It was delicious so I asked for the recipe. Easy Meatloaf Recipe. Chocolate Chip Cookie Dough Truffles | RecipeGirl.com - StumbleUpon. Chocolate Chip Cookie Dough Truffles I've never liked chocolate chip cookies.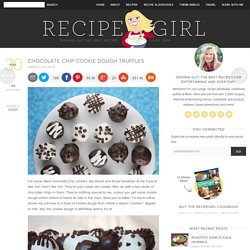 Go ahead and throw tomatoes at me if you'd like, but I don't like 'em. They're just a plain old cookie, after all, with a few studs of chocolate chips in them. They're nothing special to me, unless you get some cookie dough-action before it meets its fate in the oven. 100 Days of Real Food. Peanut butter pretzel bites & Two Tiny Kitchens - StumbleUpon. Salty and sweet.
Crunchy and melt-in-your-mouth. Peanut butter and chocolate. Dangerous and delicious (you know what I mean). Baked Potato Soup - StumbleUpon. Everything you love about a baked potato loaded with cheddar, bacon and chives, in the form of a soup!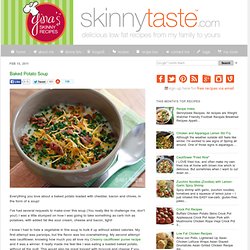 I've had several requests to make-over this soup (You really like to challenge me, don't you!) I was a little stumped on how I was going to take something as carb rich as potatoes, with added fat like sour cream, cheese and bacon, light! I knew I had to hide a vegetable in this soup to bulk it up without added calories. My first attempt was parsnips, but the flavor was too overwhelming. My second attempt was cauliflower, knowing how much you all love my Creamy cauliflower puree recipe and it was a winner. Recipes from Kevin &038; Amanda - StumbleUpon. So excited to share this super easy, ultra creamy pesto alfredo sauce, poured over dreamy, fluffy gnocchi and topped with crisp bacon and shaved parmesan.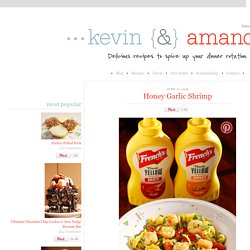 It's warm, hearty, delicious, and perfect for busy weeknights. The combo of bacon, creamy basil pesto, and parmesan send this decadent sauce over the top!! It's seriously too good to eat in public. Gnocchi are basically potato dumplings, so serve this to your meat-and-potatoes loving family for a sure-fire winner! Halloween Recipes - StumbleUpon.
Chocolate Dipped Chocolate Chip Cookie Dough Balls. Greetings!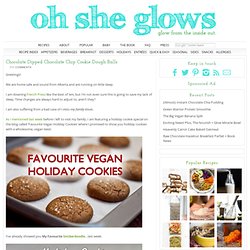 We are home safe and sound from Alberta and are running on little sleep. I am downing French Press like the best of 'em, but I'm not even sure this is going to save my lack of sleep. Time changes are always hard to adjust to, aren't they? I am also suffering from a bad case of I-miss-my-family-blues. The Infamous Jacques Torres Chocolate Chip Cookies - StumbleUpon. Now, I have a chocolate chip cookie recipe that I swear by.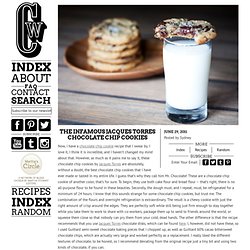 I love it, I think it is incredible, and I haven't changed my mind about that. However, as much as it pains me to say it, these chocolate chip cookies by Jacques Torres are absolutely, without a doubt, the best chocolate chip cookies that I have ever made or tasted in my entire life. I guess that's why they call him Mr. Garlic Potato Fries - StumbleUpon. I'm never going to make garlic potato fries any other way.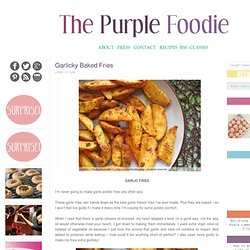 These garlic fries, win hands down as the best garlic french fries I've ever made. Plus they are baked – so I won't feel too guilty if I make it every time I'm craving for some potato comfort. When I read that there is garlic infused oil involved, my heart skipped a beat (in a good way, not the way oil would otherwise treat your heart). I got down to making them immediately. I used extra virgin olive oil instead of vegetable oil because I just love the aroma that garlic and olive oil combine to impart.
Most favorited all-time | foodgawker - StumbleUpon. Easy Crab and Cream Cheese Wontons Appetizer Recipe. Stonesoup — 5 ingredient recipes. On the weekend, Fergal and I had a lovely Saturday morning outing to our local farmers market. It's been ages since I had the luxury of doing our weekly shop at a real farmers market and I'd forgotten how much fun it is. I love strolling through the stalls, choosing from beautiful displays of produce. For me the joy of shopping at the farmers market isn't just about bringing home the freshest, best tasting produce.
Elephantine: the gnocchi weekend. Well, I couldn't wait. This weekend I made gnocchi and tomato basil sauce. I think gnocchi is one of those things that is simultaneously easy and hard – you only need a few ingredients, yet technique is everything. Elephantine: the baked mac and cheese - StumbleUpon. My favorite thing to eat, hands down, is noodles.
Italian, Chinese, Japanese, Thai... whatever way you make it, I like it. But mac and cheese is high up there on the list, especially baked mac and cheese. Is there anything more comforting? First things first: cook the pasta. I always sneak a few into my mouth after draining it. Eat Well, Spend Less: Homemade Substitutes for Grocery Staples - StumbleUpon. Girl Scout Thin Mints. The following Content was Provided by www.Budget101.com "Digging yourself out of debt, when all you have is a spoon" We love the sweet delectable taste of these much anticipated yearly treats, but now you don't have to wait all year to enjoy the taste of Girl Scout Thin Mints.
Here is our very simple, dirt cheap, copycat recipe! Delectable Chocolate Cookies 1 chocolate fudge cake mix 3 tablespoons shortening, melted 1/2 c. cake flour, sifted 1 egg 3 T cold water. Potatoes Romanoff - A Fancy Twice Baked Potato. Cinnamon Roll Pancakes | recipegirl.com. Cinnamon Roll Pancakes Updated 9/22/11 to Add: If you're coming here to sample these delicious Cinnamon Roll Pancakes, you just might like the latest recipe that I've posted for Pumpkin Cinnamon Roll Pancakes too. And Gingerbread- Cinnamon Roll Pancakes too. Enjoy! If you've ever thought you needed a reason to eat pancakes, today is the day: National Pancake Day.
Eat a short stack for breakfast, enjoy them for lunch, or make a dinner out a manhole-sized pancake… guilt free… because you're merely celebrating their existence. Eat Cake For Dinner. Pip & Ebby - Pip &Ebby - Crack&brownies. Mint Chocolate Chip Cake. How to Make a Rainbow Cake. Homemade Oreos | Flour Child. Culinary Concoctions by Peabody - Life can be cruel&8230;.. Mid - Week Munchies: Chocolate Chip Cookie & Ice Cream Cake. Icebox cake. Love on a stick. | armommy. Easy Parmesan Knots.
---