Hair/makeup
Sea of Shoes: HAIR HOW-TO. I am sometimes asked how I style my hair, and while my method is far from perfect, I thought I'd show you how!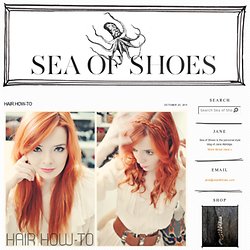 My hair is pretty straight and fine naturally and I always let it air dry. Since I go about three days between washes, I like to curl it on the first day and let it mellow out into some nice waves over the next two. DIY Toner - Homemade Facial Toner Recipe - The Daily Green - StumbleUpon. Natural Benefits: Apple vinegar and aspirin is a one-two exfoliating punch to clear acne scars and smooth bumpy, dry skin.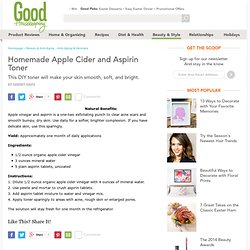 Use daily for a softer, brighter complexion. If you have delicate skin, use this sparingly. Yield: Approximately one month of daily applications. BRUSH UP - thebeautydepartment.com. Photos: denman, ibiza, cricket, warrentricomi, spornette, mason pearson, denman post designed by kristin ess #1 The Denman Paddle Brush.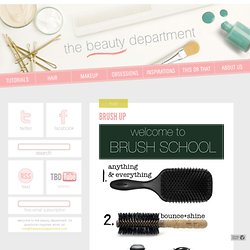 You can detangle with it, blow dry with it, massage your head with it, and tease hair with it. It doesn't pull or scratch because of its perfectly rounded nylon pin-bristles, it doesn't cause static, and is padded with an air cushion. On a daily basis, I use it to blow my hair out quickly before I curl it with a curling iron. A CLEAN CANVAS - thebeautydepartment.com. Photos: justin coit + thebeautydepartment.com post designed by kristin ess Lots of requests for a very basic blow out.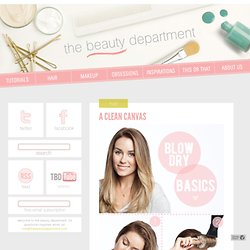 Here's your step by step! About us - thebeautydepartment.com. Photo by kristin ess, graphic design by eunice chun, post by amy nadine A couple months ago you got to know our lovely Kristin Ess, who creates all the hair + nail tutorials, when she popped out to say hello here!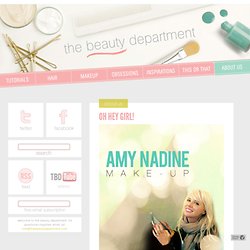 I've been meaning to as well but you know how things go… anyway, here I am! I'm Amy Nadine and the other half of The Beauty Department. I create all of the makeup tutorials and have so much fun doing every single one of them that I have to pinch myself.
---