Blogs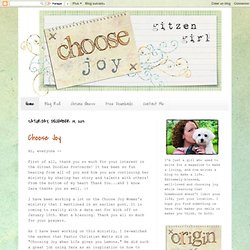 As we begin this advent season, I am reminded of the following post that Sara wrote. At our chuch service this morning we had a portrayl done by "Joseph" reminding us as we begin this first Sunday of advent, that because Joseph and Mary said yes to God so many years ago , we can have HOPE. Blessings to each of you during this advent season. Reposted from December 13, 2010 "You gotta just try to do every thing you can, when it's your time to do it." I was watching Staff Sgt.
Gitz
Jen Hatmaker - BLOG
The combined hours of untroubled sleep this last week has got to be under ten. Around 2:00am, I woke up with some clarity on next steps, and a tiny weight rolled off my shoulders. I laid in bed the rest of the night praying, letting the Holy Spirit speak to me, listening, being very still in the Word, which is tucked into every crevice of my heart.I got an email yesterday from a very dear event planner that will soon host me for her conference. With absolute care and kindness, she asked about my position on homosexuality, because while my World Vision blog held space for peace and dialogue, I kept my personal conviction close, which I have always done. But when this good woman wrote, "I personally need to know which direction your heart lends itself on this subject. Simply because I'm responsible to my superiors and consistency," I knew it in my gut: she is right.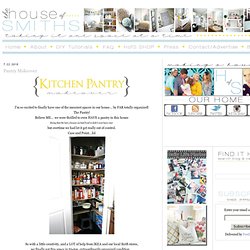 I'm so excited to finally have one of the messiest spaces in our house... by FAR totally organized! The Pantry! Believe ME... we were thrilled to even HAVE a pantry in this house
The House of Smiths - Home DIY Blog - Interior Decorating Blog - Decorating on a Budget Blog
The Girl Who Ate Everything | Quick and Easy Family Recipes
Almost twenty-three years ago, my mom brought home a blonde, blueish / greenish eyed baby for me to play with. I'm not sure why but we had nicknamed him "Blue Blue" from the start. I think maybe we thought his favorite color would be blue? Either way, the nickname didn't last long.
The Heart of the Journey | Your average twenty-something trying to make sense of a messy life.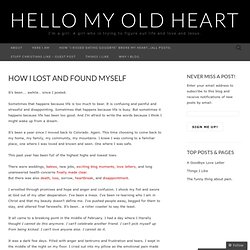 the Journey
August 24, 2012... Nearly four years ago she bounced into my life in a dress with a bright red sash. She tentatively called me Mommy after having not known one for nearly her entire five years of life and all signs of trauma were quickly masked with little girls songs and dances and giggles as she adjusted to life in a family. Years later I watched her feet run in bright red sneakers toward the towering swing set where she would pretend to fly. We had struggled for joy and were finding it; she had thrashed against love and by God's grace I was learning to hold on tight.