Blogs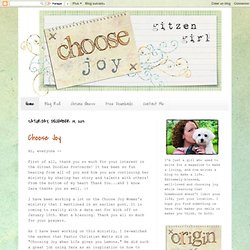 As we begin this advent season, I am reminded of the following post that Sara wrote. At our chuch service this morning we had a portrayl done by "Joseph" reminding us as we begin this first Sunday of advent, that because Joseph and Mary said yes to God so many years ago , we can have HOPE. Blessings to each of you during this advent season. Reposted from December 13, 2010 "You gotta just try to do every thing you can, when it's your time to do it." I was watching Staff Sgt.
Gitz
Jen Hatmaker - BLOG
Consequently, because of the NCF, I've been a jerky, irritated, short-tempered, impatient Icky Mom to this child for a few weeks. I've been my worst self. Where loving attention was called for, I gave short answers. When a simple answer was required, I sighed. When the last dregs of daily parenting just needed a short book and a few (more) minutes of conversation, I said we didn't have to read on Christmas break and hollered in a six-second prayer from the other room.It's like I can't dig deep enough for the requirements of this relationship lately. Whether the well is just dry or my selfishness is simply unbridled or this child really would shatter the patience of Job, it doesn't matter.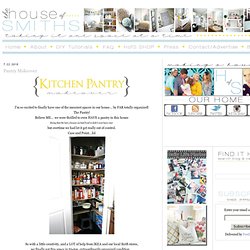 I'm so excited to finally have one of the messiest spaces in our house... by FAR totally organized! The Pantry! Believe ME... we were thrilled to even HAVE a pantry in this house
The House of Smiths - Home DIY Blog - Interior Decorating Blog - Decorating on a Budget Blog
The Top Ten Recipes of 2013 Mon, 30 Dec 2013 4 Comments Here they are, the top recipes of 2013 on TGWAE.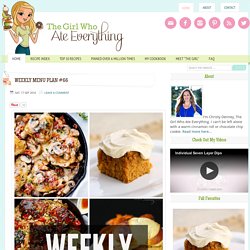 Almost twenty-three years ago, my mom brought home a blonde, blueish / greenish eyed baby for me to play with. I'm not sure why but we had nicknamed him "Blue Blue" from the start. I think maybe we thought his favorite color would be blue? Either way, the nickname didn't last long.
The Heart of the Journey | Your average twenty-something trying to make sense of a messy life.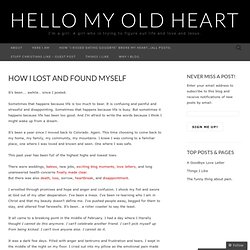 the Journey
August 24, 2012... Nearly four years ago she bounced into my life in a dress with a bright red sash. She tentatively called me Mommy after having not known one for nearly her entire five years of life and all signs of trauma were quickly masked with little girls songs and dances and giggles as she adjusted to life in a family. Years later I watched her feet run in bright red sneakers toward the towering swing set where she would pretend to fly. We had struggled for joy and were finding it; she had thrashed against love and by God's grace I was learning to hold on tight.