Blogs
Gitz. BLOG. The combined hours of untroubled sleep this last week has got to be under ten.
Around 2:00am, I woke up with some clarity on next steps, and a tiny weight rolled off my shoulders. I laid in bed the rest of the night praying, letting the Holy Spirit speak to me, listening, being very still in the Word, which is tucked into every crevice of my heart.I got an email yesterday from a very dear event planner that will soon host me for her conference.
With absolute care and kindness, she asked about my position on homosexuality, because while my World Vision blog held space for peace and dialogue, I kept my personal conviction close, which I have always done. But when this good woman wrote, "I personally need to know which direction your heart lends itself on this subject. Simply because I'm responsible to my superiors and consistency," I knew it in my gut: she is right. The House of Smiths - Home DIY Blog - Interior Decorating Blog - Decorating on a Budget Blog. I'm so excited to finally have one of the messiest spaces in our house... by FAR totally organized!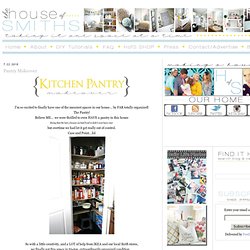 The Pantry! Believe ME... we were thrilled to even HAVE a pantry in this house. The Girl Who Ate Everything | Quick and Easy Family Recipes. The Heart of the Journey | Your average twenty-something trying to make sense of a messy life. The Journey.
---