Places
The Candy Room by Red Design Group. Red Design Group is an Australian company that creates creative and exciting environments for retail business across the board (from 7-11 stores to high-end luxury retailers) and they even have quite a space of their own.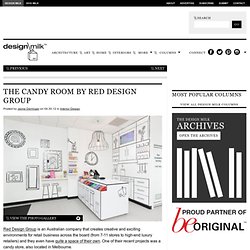 One of their recent projects was a candy store, also located in Melbourne. The store was developed for an importer of sugar-free candy called Sweet Enough, who decided to open their own retail shop. Explore more. Web pages, photos, and videos | StumbleUpon.com. The Luxury Dhigu Resort, Maldives | Luxury Furniture, Property, Travel & Interior Design | Adelto - StumbleUpon. The luxury Dhigu Resort, Maldives Anantara Dhigu Resort & Spa is encircled by mystic lagoons and unspoilt crystal shores, the resort is a heavenly sanctuary on a secluded paradise island, offering barefoot elegance in one of the world's most celebrated tropical havens.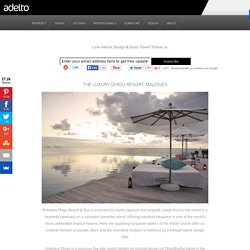 Here the sparkling turquoise waters of the Indian Ocean offer an endless horizon of aquatic allure and the evocative location is matched by a tranquil island design style. Anantara Dhigu is a luxurious five-star resort hidden on tropical terrain on Dhigufinolhu Island in the Maldives' South Male Atoll, a mere 35 minute speedboat journey from the island nation's international airport, or a scenic five minutes by private chartered seaplane. Male-based architect Mohamed Shafeeq from Group X Design Associates and Thailand-based interior design company, Abacus, headed by John Lightbody, have styled the resort's distinctive environment as a creative complement to the natural beauty of the island.
10 Weird and Mysterious Places on Earth - StumbleUpon. Digg 1.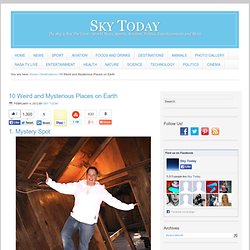 Mystery Spot Mystery Sport is a tourist attraction near Santa Cruz, California, famous because of its disrespect to the laws of physics and gravity. The odd cabin, although seems like lying on flat ground, makes those who enter inside swinging all the time. The Town With No Roads - StumbleUpon. 15 Amazing Castles from Around the Globe - StumbleUpon. Although designed and built for the prominent purpose of defense, today the castles seem like somewhat unrealistic constructions straight from the fairytale world.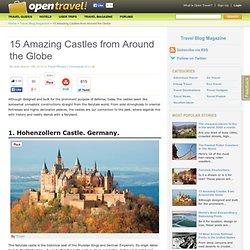 From solid strongholds to oriental fortresses and highly decorative palaces, the castles are our connection to the past, where legends mix with history and reality blends with a fairyland. This fairytale castle is the historical seat of the Prussian Kings and German Emperors. Its origin dates back to the Middle Ages - it was built in the 11th century, then completely destroyed in 1423 and reconstructed in 1461.
The view from the castle that stands on top of Mount Hohenzollern (855 m) is as stunning as the complex itself.
---