Music
bronzino avaricum
Morning Caffeine - Main Mix - Martin Landsky
Blog Music de minimal-electro - <3 Minimal Electro <3 - Skyrock.com
Les 3 garces Style : Chanson française Niveau de finition : En chantier Nombre d'écoutes : 291 Nombre de téléchargements : 7 Licence : Creative Commons BY-NC-ND Artistique : 8/10 Technique : 8/10 Originalité : 8/10 Son : 8/10 Général : 9/10 mon texte présenté sur le forum n'a pas plût du tout trop excentrique bon OK mais avec la musique alors ? Surveiller cet artiste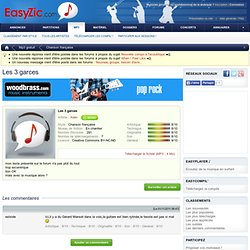 Télécharger `Les 3 garces`, par `Alain` (fichier MP3)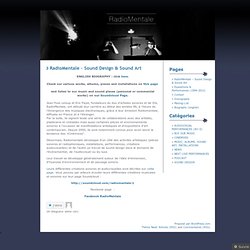 ENGLISH BIOGRAPHY : click here. Check our various works, albums, pieces and installations on this page and listen to our music and sound pieces (personal or commercial works) on our Soundcloud Page. Jean-Yves Leloup et Eric Pajot, fondateurs du duo d'artistes sonores et de DJs, RadioMentale, ont débuté leur carrière au début des années 90, à l'heure de l'émergence des musiques électroniques, grâce à leur émission Radiomentale, diffusée en France et à l'étranger. Par la suite, ils signent toute une série de collaborations avec des artistes, plasticiens et cinéastes mais aussi certaines pièces et environnements sonores à l'occasion de manifestations artistiques et d'expositions d'art contemporain.
RadioMentale
Pop - Toutes les sorties CD, albums
Accueil | News | Chroniques | Contribuez ! | T-Shirts | Newsletter | S'inscrire 30sec groupe label album membre Chroniques toutes les chroniquesPar sélection : Interviews
Antrabata (trip-hop / downtempo) : albums, mp3 et chroniques. - Trip-Hop.net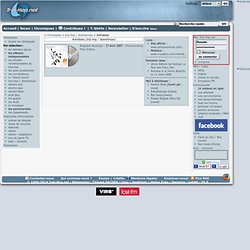 ESCAFLONE by KARL JEFFERSON by karl jefferson on SoundCloud
Prev page << 1 2 3 ... 271 272 273 >> Next page 04 Oct 2013 Ahzee - Born Again-(CB00913)-WEB-2013-ZzZz (House)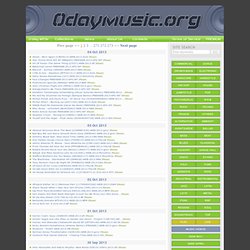 ..::.0daymusic.::..
Le mix de la semaine
Pschent Remixes Volume 1 [Pschent Music