Food and drinks
nammi.is - Icelandic candy
All Recipes | Beverage | Chai Tea Mix
Enjoyingtea: White, oolong, black, and green tea. Tea sets. Teapots.
SpecialTeas
Tea Bar
Tea : www.tealosophy.com : by Inés Berton Tealosophy by Inés Berton Travel to tealosophy Av. Alvear 1883 - Galería Promenade (L 37) Buenos Aires, Argentina Monday to Friday (10:30 to 19:30) Saturday (10:30 to 14:30) Lunes a Viernes (10:30 a 19:30) Sábados (10:30 a 14:30) Té, Tea, Thé, Cha, Chai Whatever the time or its name, something as simple as a few tea leaves, a little water, sensitivity and patience. can refresh the senses and sooth the spirit, creating the moment. The people of the land taught the respect and love for what I do.
Blooming Tea Flowering Teas
Homegrown Herb & Tea
Machine à pain
Bienvenue sur le Topic unique des amateurs de Pains maison Je reprend les clés du topic, merci à Brandazor. Différentes façons de faire du pain maison : - De manière "traditionnelle" se rapprochant des techniques des boulangers avec du matériel "domestique". - Ou bien la fabrication avec une MAP (Machine à Pain), ou presque tout est automatisé, mais qui s'éloigne d'un pain de boulangerie. Toutes les méthodes et formes de fabrications sont les bienvenues sur ce topic, plus on échange, plus on essaye de faire, plus on apprend et plus on a de chance d'arriver à faire un pain maison qui nous plaise ! La fabrication du pain n'est pas une science exacte, c'est un produit "vivant" et donc d'une fabrication sur l'autre, le pain a rarement la même 'bouille", la même odeur ou le même goût.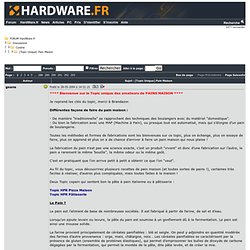 Machine à pain - Cuisine - Discussions
La machine à pain
Votre machine à pain Quoi de plus merveilleux que de se réveiller le dimanche matin avec une bonne odeur de pain frais!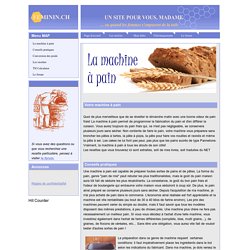 The 11 Best Foods You Aren't Eating - Well Blog