Politics
STUNNING: Comparing U.S. & World Covers for TIME Magazine. More Tagging tips: A tag is a way to search for this diary.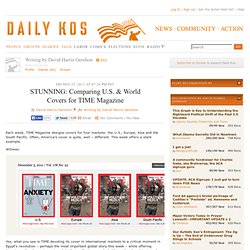 If someone is searching for "Barack Obama," is this a diary they'd be trying to find? The Elizabeth Warren Quote Every American Needs To See. Vice President Joe Biden Visits Japan. Vice President Biden arrived In Tokyo late Monday evening -- the final leg of his trip through Asia.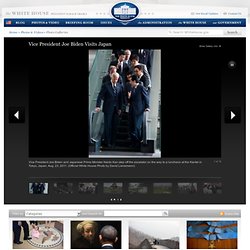 The Vice President met with Prime Minister Naoto Kan where he expressed both sympathy and support to the Japanese people in the wake of the March 11 disaster, as well as emphasized the strong ties between the U.S. and Japan. Later, Vice President Biden traveled north to the Sendai region where he delivered remarks at the Sendai Airport on Japan's recovery and reconstruction efforts. He also met with survivors of the tsunami at a temporary housing center in Natori, Japan.
Vice President Biden concluded his trip to Japan by delivering remarks to U.S. service members and their families at Yokota Air Base, headquarters of U.S. Forces Japan. The Front Runners. Brought to you by BubbleGenius.com!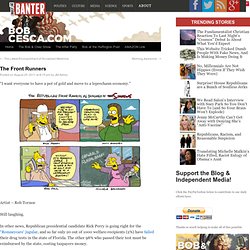 04/09/14 Show: Converservative: Another Special Wednesday Show; Tax Time; Senate Campaign Ad Threatens to 'Blow Your Balls Off'; The Crazy Arms Race; Eric Holder versus Louie Gohmert; Cast Aspersions on My Asparagus; The Sound City Documentary; Texas is Insane; Ron and Rand Paul are Now Mainstream Republicans; New Radio Clip from Alex Jones Sidekick Dan Bidondi; Our Dan Bidondi Theme Song; and much more.Listen and subscribe on iTunes (it's FREE!) Download the mp3 (54 minutes, 23mb) What Can Be Done About the Somalia Famine? Hint: It's not a problem than can be droned away. Everyday brings grim new figures from the famine in Somalia.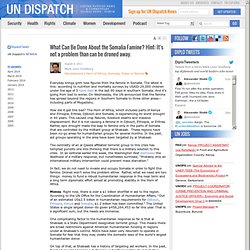 The latest is this: according to nutrition and mortality surveys by USAID 29,000 children under the age of 5 have died in the last 90 days in southern Somalia. And it's going from bad to worse. On Wednesday, the UN announced that the famine has spread beyond the regions in Southern Somalia to three other areas—including parts of Mogadishu. How did it get this bad? The Horn of Africa, which includes parts of Kenya and Ethiopia, Eritrea, Djibouti and Somalia, is experiencing its worst drought in 60 years. The Centrist Cop-Out. The Billionaire Koch Brothers. On May 17th, a black-tie audience at the Metropolitan Opera House applauded as a tall, jovial-looking billionaire took the stage.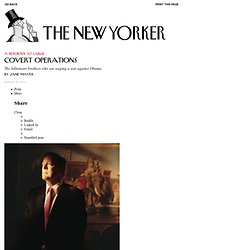 It was the seventieth annual spring gala of American Ballet Theatre, and David H. Koch was being celebrated for his generosity as a member of the board of trustees; he had recently donated $2.5 million toward the company's upcoming season, and had given many millions before that. Koch received an award while flanked by two of the gala's co-chairs, Blaine Trump, in a peach-colored gown, and Caroline Kennedy Schlossberg, in emerald green. This Is Called 'Small' Government - NYTimes.com. The painful price of deficit hysteria - History. Regardless of the outcome of the debt ceiling debate, conservatives have already scored a major victory over liberalism.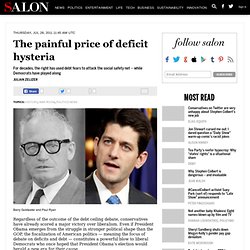 Even if President Obama emerges from the struggle in stronger political shape than the GOP, the fiscalization of American politics — meaning the focus of debate on deficits and debt — constitutes a powerful blow to liberal Democrats who once hoped that President Obama's election would herald a new era for their cause. Liberals were wrong. Conservatives, who have a mediocre field of presidential candidates and who don't control the Senate, have been able to stand their ground.
A taxpayer-supported campaign against Big Government - War Room. Taxpayer dollars in Pennsylvania, Wisconsin, Tennessee and Kansas are being spent to fund state lawmakers' memberships in the conservative American Legislative Exchange Council (ALEC), which provides model state legislation drafted with the help of big business.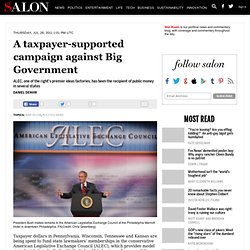 In some of the states, public money has gone to travel and food expenses as well, including in Pennsylvania, whose taxpayers spent $50,000 to cater ALEC's 2007 conference in Philadelphia. The public money is helping to fund the activities of an organization dedicated to drastically cutting government spending and whose non-profit status is currently being challenged by Common Cause, which contends that ALEC is essentially a lobbying organization. Corporations are given a direct role in drafting the model legislation that ALEC urges states to adopt — legislation that, if enacted, often benefits the same corporations. When the super-rich cry "class warfare!" - Wall Street. I ran into my friend Jeff Madrick a few weeks ago.
Like a rabbit out of a hat, or so it seemed, he whipped from his coat a copy of his new book, "Age of Greed." He gave the book to me and I'm grateful. It's a compelling and worthy read. Jeff's an able journalist; an excellent and cogent storyteller in a field that often defies the straightforward plot or easy explanation — economics. Hardball: Bruce Bartlett desroys every Republican fiscal talking point in 5 minutes. Visit msnbc.com for breaking news, world news, and news about the economy They were discussing the infamous chart.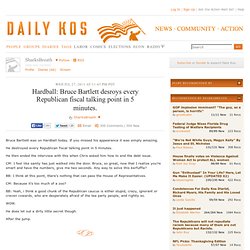 On to the dirty little secret. Because I'm sure some will mention it. If Pretend Debt Ceiling Negotiations Lead To Downgrade, Credit Card Users Get Hit First. For most of the 21st century thus far, Americans spent well beyond their means, purchasing the life they wanted on credit, incurring debts that always looked as if they could be paid off later.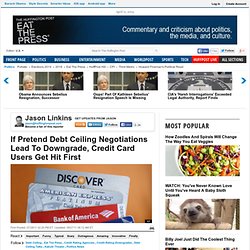 And it's understandable why they'd do that -- while most of our 20th century wars were fought at home by a populace that rationed and sacrificed for the greater good, the Global War On Terror enjoined us to spend money, and go on vacation. So spend we did. And then, in 2008, the economy collapsed after all of the bets Wall Street had made on our debts collapsed. The good news: To the American people's enduring credit, they've modified their behavior and adapted to new realities and are now living more within their means. Blame Republicans for the Debt Ceiling Crisis - Peter Fenn. Are you watching your 401(k) drop? Are you seeing your retirement tank? Are you waiting for higher interest rates on your credit cards and mortgages?
Are you nervous about another recession? Well, thank the Republicans. This debt crisis is totally of the Republicans' making. Religious Leaders Arrested At Capitol For Budget Protest. Update: Upon further investigation The Huffington Post has confirmed that Rabbi Arthur Waskow was arrested along with the rest of the group.
WASHINGTON -- Capitol Hill police arrested 11 people -- many of them members of the clergy -- protesting the Republican House budget-cutting plan, a police spokeswoman said. The group, organized by Common Cause's president, the Rev. Bob Edgar, occupied the center of the historic Rotunda for more than a half hour Thursday, praying and singing until police closed the massive chamber and arrested the group, one by one.
---