rss
Get flash to fully experience Pearltrees
We recently went through some of the best ways to share files with a nearby computer , and many of you noted that Dropbox can still be a viable syncing method, even over Wi-Fi. Here's how to set it up. In our rundown, we noted that Dropbox, while one of our favorite services ever, isn't ideal for sharing with your friend sitting right next to you. While you can use Dropbox to share files with anyone, you usually have to upload it and download it from Dropbox's servers first (which takes longer than sharing over Wi-Fi, Ethernet, or the other sharing options we mentioned). However, if both you and your friend have a Dropbox account, you can , in fact, use it to share files over your Wi-Fi network. All you need to do is share a folder from Dropbox's web interface.
Dear Lifehacker, For reasons unknown to me (Physics? Global warming? Witchcraft?), my router's reach is terrible. My house has all kinds of Wi-Fi dead zones, and I have no idea why.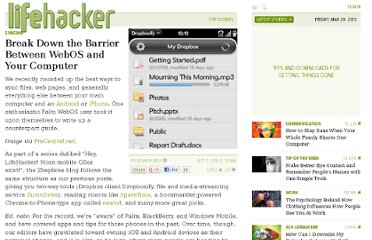 We recently rounded up the best ways to sync files, web pages, and generally everything else between your main computer and an Android or iPhone . One enthusiastic Palm WebOS user took it upon themselves to write up a counterpart guide. Image via PreCentral.net .
Digital Inspiration (via FRAndroid , merci Benjamin ) propose un pas-à-pas pour imprimer de son téléphone sur n'importe quelle imprimante en passant par Dropbox . Nous l'avons quelque peu adapté pour qu'il fonctionne parfaitement sur iPhone et iPad , évidemment avec un Mac. Le principe est simple : il s'agit d'envoyer un document depuis son iPhone ou iPad vers un dossier de sa Dropbox, et de faire en sorte que tout élément ajouté dans ce dossier soit automatiquement imprimé. On sait comment envoyer un document créé sur iOS à Dropbox : certaines applications sont intégrées à ce service Web, et on peut utiliser Habilis pour les autres (lire : Astuce : envoyer des fichiers vers Dropbox par mail ). Si vous utilisez Habilis, soit vous utiliserez le dossier Habilis comme boîte de réception pour votre imprimante, soit vous utiliserez en plus l'application Dropbox pour déplacer le fichier que vous souhaitez imprimer vers un dossier qui sera réservé à l'impression.
Your iOS device is a killer pocketable computer; your desktop is more powerful with a bigger screen. They need to play better together. Here's how to break down the barrier between the two and shuttle text, files, media, and more seamlessly between your desktop and iPhone. It's a common annoyance if you're a smartphone user: You're looking at something on your desktop, and you want to move it to your iOS device. Or vice versa. Below, we've pulled together the best tools for doing just that: quickly shuttling data between your desktop and iPhone for a more seamless, harmonious smartphone experience.
Whether for aesthetic or practical reasons, most people don't like running wires around their entire home to, say, get online or hook up a home theater. These tips and tricks can help you go wireless in nearly any room in the house. The truth is that you'll be hard pressed to cut the wires entirely , so this is more of a guide to removing as many as possible, replacing wired solutions with wireless alternatives. Specifically, we're going to suggest how you can go wireless and improve your signal in your home Wi-Fi network, improve your cellular signal, cut the cords in your home theater, and set up wireless printing, scanning, and storage solutions. Also, remember that wireless isn't necessarily the holy grail.