Technology
Sony Nextep Computer Concept for 2020 by Hiromi Kiriki. In 2020 We Can Wear Sony Computers On Our Wrist Our present need for internet connectivity is so profound that secondary devices like the Nextep Computer are bound to happen.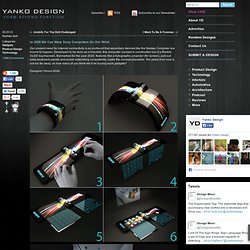 Developed to be worn as a bracelet, this computer concept is constructed out of a flexible OLED touchscreen. Earmarked for the year 2020, features like a holographic projector (for screen), pull-out extra keyboard panels and social networking compatibility, make the concept plausible. 70 Things Every Computer Geek Should Know. | Arrow Webzine. The term 'geek', once used to label a circus freak, has morphed in meaning over the years.
What was once an unusual profession transferred into a word indicating social awkwardness. As time has gone on, the word has yet again morphed to indicate a new type of individual: someone who is obsessive over one (or more) particular subjects, whether it be science, photography, electronics, computers, media, or any other field. A geek is one who isn't satisfied knowing only the surface facts, but instead has a visceral desire to learn everything possible about a particular subject. A techie geek is usually one who knows a little about everything, and is thus the person family and friends turn to whenever they have a question. If you're that type of person and are looking for a few extra skills to pick up, or if you're a newbie aiming to get a handhold on the honor that is geekhood, read on to find out what skills you need to know.
How to make flash drive that copy's users files silently and automatically. Top 10 Computer Hardware Fixes and Upgrades. An Incredible Way to Reveal Passwords Behind Asterisks. If you use a lot of online services it also means that you have got a lot of passwords and usernames to remember.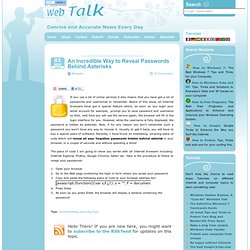 Aware of this issue, all Internet browsers have got a special feature which, as soon as you login your email account for example, prompt you to save password and username so that, next time you will use the service again, the browser will fill in the login interface for you. However, while the username is fully displayed, the password is hidden by asterisks. Now, if for any reason you don't remember such a password you won't have any way to recover it. Usually, to get it back, you will have to buy a special piece of software.
---