Horror
Advertisement Today's desktop wallpaper collection is all about horror. Wallpaper can convey the depths of emotion and feeling and whatever you want them to convey. You will always find a wallpaper to express your feeling or mood. It's always nice to refresh your perspective with some inspirational, elegant, stylish and beautiful wallpaper.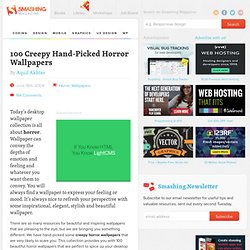 100 Creepy Hand-Picked Horror Wallpapers - Smashing Magazine
Paintings
Horror Movies Desktop Wallpaper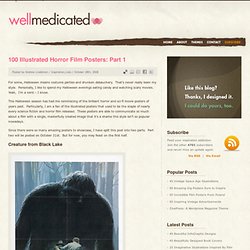 For some, Halloween means costume parties and drunken debauchery. That's never really been my style. Personally, I like to spend my Halloween evenings eating candy and watching scary movies. Yeah, I'm a nerd – I know.
100 Illustrated Horror Film Posters: Part 1
HOME | Joshua Hoffine
The Art of Horror - Paintings & Illustrations by Eric Swartz
Eyes of Chaos | Dark Art | Dark Illustration Horror | Book & CD Art
Horror and macabre are incredibly common themes for artists, due to the powerful impression that can be made using a combination of color, shadow and perspective. Perhaps the most commonly recognized painting of a horror-style scene is "The Scream", an expressionistic painting by Edvard Munch. As always, with the advent of digital art, the horror genre has made tremendous leaps forward in the art world. In this post, we've gathered up 30 terrifying examples of horror digital art. Whether the horror and fear is directly obvious, with monsters, demons and blood, or merely insinuated through the clever use of colors and shadows, and character emotions, there's a great variety of works in both true digital painting form, grunge form, and even line-art form. As a word of caution, some images contain depictions of violence, blood, monsters and other horror elements.
30 Terrifying Examples of Horror Digital Art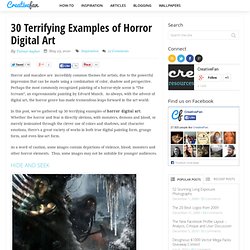 Advertisement It is true that art communicates what words can not and art is the language that communicates with the soul. Morbid art stands for works that illustrate a very deathly and deathlike mood. It has many variations starting from its gore scenes to its dark and depressed atmosphere – and sometimes its daydreams, night screams, corpses and horrifying imagery. As such, it has some similarties with the mystic art that is also quite "charismatic" in terms of its themes and motifs. The beauty of mystic art is the simple fact that it captures your attention at the very first glance, provides you with the imagery of something that doesn't exist, looks surreal or even bizarre and hence impresses you in a very mystifying way.
Horror, Morbid and Mystic Art Pictures - Smashing Magazine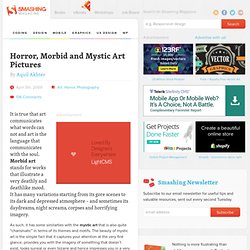 Horror Writers Association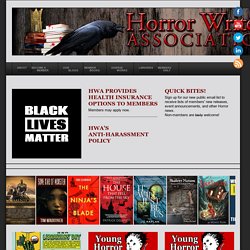 Know a Nominee Know a Nominee, Part Fifteen: Gregory Frost Welcome to today's "Know a Nominee" update, the interview series that puts you inside the minds of this year's Bram Stoker Award Nominees. Featured today is Gregory Frost, who's nominated in the category of... Know a Nominee, Part Fourteen: Helen Marshall
UHM - Upcoming Horror Movies | Your upcoming horror movies resource since June 24th '99
FANGORIA® - America's Horror Magazine
Horror Movies, Free Horror Clips
Bloody-Disgusting! - Your Number 1 Source For All Things Horror, Movies, DVDs, Video Games, Clips, Trailers, Reviews, Interviews, and More
Silent Hill: Revelation Movie Review I'm not a fan of the "quest" movie, in which "the chosen one" must avenge the death of a "lost loved one", fighting "demonic forces" in order to "save humanity" and all that rot. (Not the ... >> Read More The Bay Movie Review Just when I thought it was safe to go back in the water… here comes The Bay!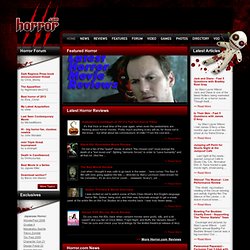 Horror.com - Horror movies, scary films, news & forums since 1994
Watch Free Horror Movies Online.
Top 50 scariest horror movies of all time - Halloween movies