Activism
Get flash to fully experience Pearltrees
OVER the past 64 years, Palestinians have tried armed struggle; we have tried negotiations; and we have tried peace conferences. Yet all we have seen is more Israeli settlements, more loss of lives and resources, and the emergence of a horrifying system of segregation.
Original version found at: http://www.saboteamos.info Translation by Erica Lagalisse
Llamazares tiene 300.000 euros en el banco y Rozada pagó 34.000 euros de IRPF Las páginas web del Congreso de los Diputados y del Senado publican el patrimonio de todos los parlamentarios Rubalcaba ahorró un millón, Rajoy declara 600.000 euros, y en tres años Zapatero ha saldado un préstamo por casi 90.000
El grupo de activistas Anonymus México convocó con éxito a una de sus conocidas operaciones de saturación de servidores, en esta ocasión se trató de la página web de la Procuraduría de Justicia de Guerrero como parte de la operación #OpPoliciasAsesinos. Los hacktivistas lanzaron esa operación en oposición al ataque policiaco hacia los normalistas de Ayotzinapa y repudiar la muerte de dos estudiantes.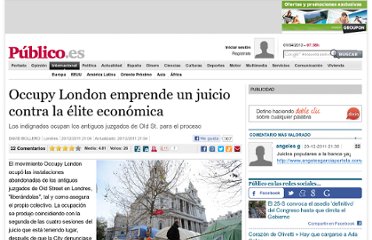 El movimiento Occupy London ocupó las instalaciones abandonadas de los antiguos juzgados de Old Street en Londres, "liberándolas", tal y como asegura el propio colectivo. La ocupación se produjo coincidiendo con la segunda de las cuatro sesiones del juicio que está teniendo lugar, después de que la City denunciase a Occupy London por el campamento de la plaza de la Catedral de Saint Paul. Ahora, el movimiento pretende "restablecer el equilibrio" y pone en marcha una especie de "juicio al 1%", en referencia a la élite económica contra la que protesta en nombre del restante 99% de la población.
– Next week the Los Angeles City Council will vote on a resolution that calls on Congress to amend the Constitution to clearly establish that only living persons -- not corporations -- are endowed with constitutional rights and that money is not the same as free speech.