Tiles
The Royal Ceramic Industry Public Co., Ltd.
ceramic clay tile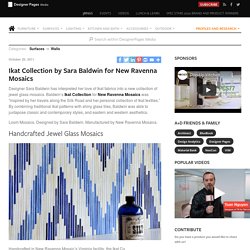 Designer Sara Baldwin has interpreted her love of Ikat fabrics into a new collection of jewel glass mosaics. Baldwin's Ikat Collection for New Ravenna Mosaics was "inspired by her travels along the Silk Road and her personal collection of Ikat textiles." By combining traditional Ikat patterns with shiny glass tiles, Baldwin was able to juxtapose classic and contemporary styles, and eastern and western aesthetics. Loom Mosaics. Designed by Sara Baldwin.
Ikat Collection by Sara Baldwin for New Ravenna Mosaics
Northern Ceramics - The Tiling Specialists
Once upon a time I had that seminal experience of recent college graduates everywhere, the grand backpack-laden, hostel-sleeping "European Vacation." My singular interest was Spain, so I spent that summer exploring the varied landscapes and diverse populations of that great peninsula. Among Spain's manifold landmarks and historical enclaves, the one that still resonates is the Alhambra Palace in Southern Spain.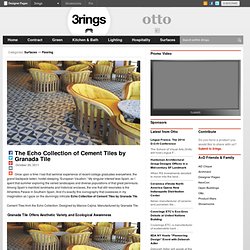 The Echo Collection of Cement Tiles by Granada Tile