COOKING
Spicy Chicken Recipes - How to Make Spicy Chicken
Paprika Shrimp & Green Bean Saute
Serve this garlic chicken and shrimp recipe with hot cooked pasta, or try it over hot boiled rice. Ingredients: 2 to 3 boneless chicken breast halves or tenders, about 1 pound 1 pound large shrimp 6 tablespoons butter 1/4 cup olive oil 4 medium cloves garlic, smashed and minced 1 tablespoon fresh chopped basil, or 1 teaspoon dried leaf basil 1 tablespoon fresh chopped parsley, or 1 teaspoon dried parsley flakes 1/2 teaspoon salt 1/2 teaspoon Creole seasoning or seasoned salt blend Preparation: Lightly pound chicken between sheets of plastic wrap to an even thickness.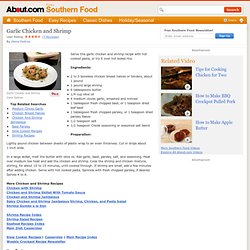 Garlic Chicken and Shrimp Recipe With Butter and Parsley
Weekly Dinner Menus - Cheap Meal Ideas - Weekly Dinner Planner | Cheap Meals For Your Family
Kingdom Hearts Tarts made with freezer pie crust recipe. Featured Food Storage : Shortening, Flour, Salt Pantry Stocking Suggestion: Shortening.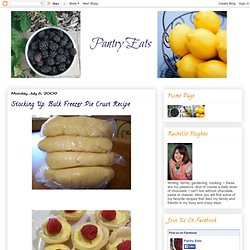 Stocking Up. Bulk Freezer Pie Crust Recipe
About our partner: Giveaways & Sweepstakes was created to help others. Its founders used to spend a few hours every day scouring the web in search of the latest giveaways and sweepstakes. They'd heard about how there were people who entered various giveaways and sweepstakes every day and how they were able to win from time to time. These people would win cash, computers, iPods -- even cars! So the founders wanted to try to do the same thing and began their daily quest for giveaways and sweepstakes to enter. Then they realized that there might be a lot of people like them who are interested in tracking and entering giveaways and sweepstakes frequently, which is why they created their website.
Frugal Money-Saving Tips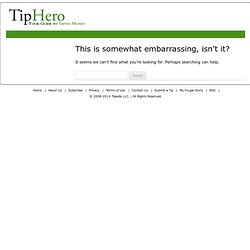 Coupon Database : Clippin' With Carie
So I broke the 3 or 4 ingredient rule here, but try it and you'll forgive me.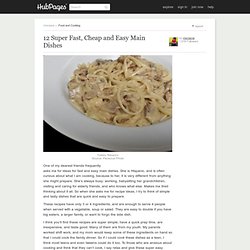 12 Super Fast, Cheap and Easy Main Dishes
eatathomecooks.com
A Weeks Worth Of Cheap Food Recipes | Cheap Meals For Your Family
introducing the eat at home weekly meal plans and grocery lists! You get both the Traditional Meal Plan and the All Slow Cooker Meal Plan emailed to you each week, when you subscribe. Each meal plan includes 6 dinners, 1 dessert and side dish suggestions. The grocery list and printable recipes are also included. The cost is just $4 per week . Menu/Grocery List/Recipes – week 2
GOOD WEEKLY MENU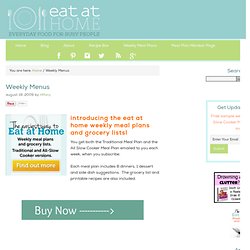 One of our ultimate breakfasts. Eggs from our CSA, scrambled with swiss chard also from our CSA. Home fries (potatoes from the CSA!) baked, not fried.
breakfast blogger » 2008 » September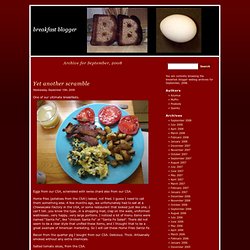 How to Bake Soup Bowls
The Fried Chicken to End All Fried Chicken There are, by my count, at least seven levels of fried chicken. The worst of them is good; the best, which I waited forty-four years to find, led to what can only be called an out-of-body experience.