COOKING
Spicy Chicken Recipes - How to Make Spicy Chicken. Paprika Shrimp & Green Bean Saute. Garlic Chicken and Shrimp Recipe With Butter and Parsley. Serve this garlic chicken and shrimp recipe with hot cooked pasta, or try it over hot boiled rice.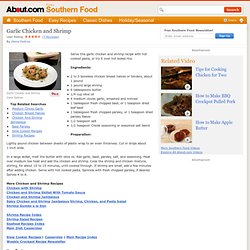 Ingredients: 2 to 3 boneless chicken breast halves or tenders, about 1 pound1 pound large shrimp6 tablespoons butter1/4 cup olive oil4 medium cloves garlic, smashed and minced1 tablespoon fresh chopped basil, or 1 teaspoon dried leaf basil1 tablespoon fresh chopped parsley, or 1 teaspoon dried parsley flakes1/2 teaspoon salt1/2 teaspoon Creole seasoning or seasoned salt blend Preparation: Lightly pound chicken between sheets of plastic wrap to an even thickness. Stocking Up. Bulk Freezer Pie Crust Recipe. Kingdom Hearts Tarts made with freezer pie crust recipe.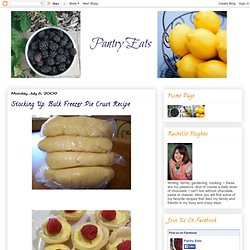 Featured Food Storage: Shortening, Flour, Salt Pantry Stocking Suggestion: Shortening. Coupon Database : Clippin' With Carie. 12 Super Fast, Cheap and Easy Main Dishes. So I broke the 3 or 4 ingredient rule here, but try it and you'll forgive me.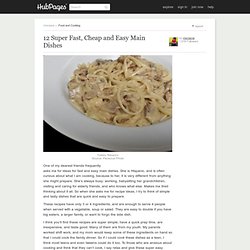 I copied this recipe from an old colleague, Dr. Chris, and made it even better. On the hot Texas summer nights when we don't want to use the stove, we make this salad at our house. We make individual portions in these relatively huge bowls. Eatathomecooks.com. GOOD WEEKLY MENU. Introducing the eat at home weekly meal plans and grocery lists!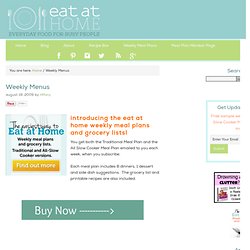 You get both the Traditional Meal Plan and the All Slow Cooker Meal Plan emailed to you each week, when you subscribe. Each meal plan includes 6 dinners, 1 dessert and side dish suggestions. The grocery list and printable recipes are also included. Menu/Grocery List/Recipes – week 2 Low Cost Menu/Grocery List/Recipes – week 3 – featuring Low Cost Meals. RecipeMatcher - Find Delicious Recipes Based on Ingredients/Groceries You Have at Home! Breakfast blogger » 2008 » September. One of our ultimate breakfasts.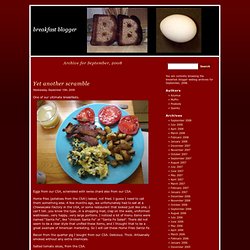 Eggs from our CSA, scrambled with swiss chard also from our CSA. Home fries (potatoes from the CSA!) Baked, not fried. How to Bake Soup Bowls.
---