a ranger
Get flash to fully experience Pearltrees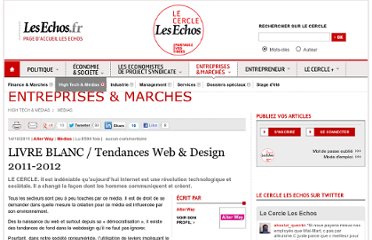 LE CERCLE. Il est indéniable qu'aujourd'hui Internet est une révolution technologique et sociétale. Il a changé la façon dont les hommes communiquent et créent.
21 people think this is good It's on your To-Do List ! Get your friends involved too. 2 people think this is good It's on your To-Do List ! Get your friends involved too. 7 people think this is good It's on your To-Do List !
Paypal is one of the biggest and most widely adopted forms of online payment on the web today. With the weight of Ebay behind it, PayPal has truly went from strength to strength, and is a well recognised web brand. That said, it hasn't avoided negative press, with reports of accounts being frozen, and Paypal slow to respond to support queries, many people have been forced to review and compare other options.
Here's a useful infographic from Janice Diner , summarising the current 'ecosphere' f-commerce and the six ways in which vendors are selling with Facebook (see Janice's full presentation here ). It's a useful snap-shot of the fast-evolving world of f-commerce, and similar to that outlined in our f-commerce FAQ .
Back in June, News Corp put two more of its newspapers, other than the Wall Street Journal, behind a paywall: The Times of London and the Sunday Times . We kind of expected it to be a disaster , but now we actually have some results. The company announced that it signed up 105,000 paying subscribers, plus another 100,000 who were already subscribers to the print newspaper.
Nicholas Negroponte declared the digital revolution over in 1998.
The biennial search ranking factors report from SEOmoz was released today, which surveyed 134 SEO professionals on what has the most effect on search rankings, and their views on the future of search. Here's a few highlights from the report...
Posted 08.12.10 by Adrian Ho I mentioned a while back that I thought big corporations were starting to adopt Modern Brand strategies with a twist. Since then, we've found some more examples of innovation from big companies that adapt the principles of Modern Branding, but which take advantage of the specific attributes and strengths of large companies.