Series TV
He's smart, he's good looking, and he's got a great sense of humor. He's Dexter Morgan, everyone's favorite serial killer. As a Miami forensics expert, he spends his days solving crimes, and nights committing them.
Watch Dexter Season 6 on Showtime: Online Videos, Webisodes, Downloads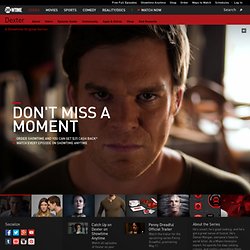 Addicted To Dexter
Premièrement, avant de rentrer dans les détails, je souhaite dire que j'ai bien aimé la fin. Mais pas cette saison 8 car beaucoup trop d'incohérences. J'ai toujours pensé et voulu que Dexter meurt à la fin de la série. Finalement, les scénaristes nous ont concocté quelque chose d'un peu plus subtil que la chaise électrique ou le suicide. Quelque chose de plus psychologique. Dexter seul, anonyme, sans voix-off, vide.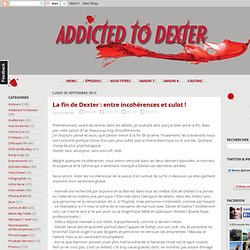 Weeds on Showtime: Watch Videos, Download Mobile Apps
Tomorrow at 12:30 AM ET/PTDjango UnchainedIn director Quentin Tarantino's adventurous western, Django, a freed slave, sets out to rescue his wife from the hands of Calvin Candie, a brutal Mississippi plantation owner. WATCH TRAILER LEARN MORE Tonight at 7 PM ET/PTMAD DOG: Inside the Secret World of Muammar GaddafiWatch a study in absolute power, told by those who directly served the unforgiving late Libyan leader Muammar Gaddafi. watch trailer LEARN MORE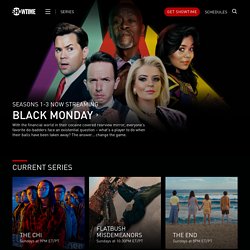 Monday 1/13 Tuesday 1/14 Wednesday 1/15 Thursday 1/16 On Tonight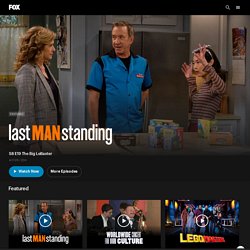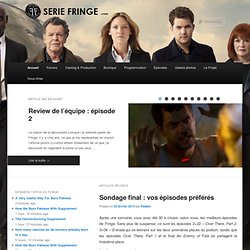 Fringe Saison 4 Saison 3 - TF1, FOX, RTBF, TSR, V télé, City TV
Après une semaine, vous avez été 30 a choisir, selon vous, les meilleurs épisodes de Fringe. Sans plus de suspense, ce sont les épisodes 2×22 – Over There, Part 2, 3×08 – Entrada qui se tiennent sur les deux premières places du podium, tandis que les épisodes Over There, Part 1 et le final An Enemy of Fate se partagent la troisième place. Le classement complet : En bonus, le classement de tous les épisodes de la série sur les cinq saisons. Le nombre de votes a été étalonné en fonction des nombres de votes totaux pour chacun des sondages (cliquez sur les images pour les agrandir) :
Fringe : division française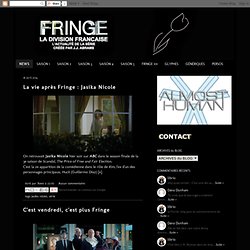 Je vous faisais part hier de l'initiative d'une fan pour célébrer le 18 janvier, en voici une autre. Depuis les funérailles de Nelson Mandela et la petite photo souvenir du président Obama, le monde entier sait aujourd'hui ce qu'est un selfie. Alors pour le 18 janvier prochain, date anniversaire de la fin de Fringe sur la Fox, vous propose de faire de cet anniversaire un jour vraiment spécial et de créer des... FringeFies ;) Vous pouvez faire ce que vous voulez, prendre en photo vos trucs préférés de la série, une citation, un montage... Si vous êtes trop timide pour vous inclure dans la photo, essayez au moins de montrer un bout de bras, de main ou d'épaule devant l'objectif !
Un film ou un spin-off pour True Blood en 2016 ? 10 jan Read More Comme vous le savez surement déjà, la 7ème saison de True Blood qui sera diffusée en Juin 2014 sur la chaîne HBO sera la toute dernière de la série. Cependant, on peut déjà commencer à penser que l'univers fantastique de True Blood ne sera pas complètement mis de coté et Stephen Moyer vient de révéler quelques indices dans ce sens lors d'une interview.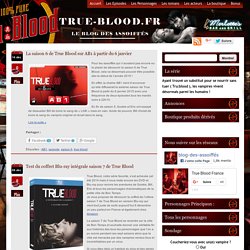 Pretty Little Liars - Official TV Show Site
Hung: Homepage