Costuming
Home page. Steampunk Emporium -- Steampunk Clothing from Gentleman's Emporium. Period Patterns. Mediaeval Miscellanea has created copyrighted Period Patterns™ for sewing authentic period clothing.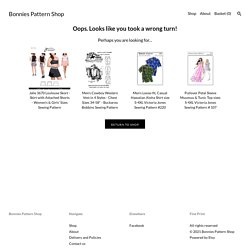 The patterns, designed by professional costumers, are rigorously researched to ensure historical authenticity. Each package includes complete, full sized cutting patterns in all sizes listed on the envelope (which permits easier custom fitting; sizes are based on standard commercial pattern sizes and can easily be scaled up or down to create additional sizes).
Each pattern package contains historical notes with illustrations from contemporary sources providing background information, as well as possible enhancements and variations. Civil War Ladies Special Occassion Patterns. 63-L Hanna, c.1861 From the original dress of Hannah Ewbank of Marquette, WI, as documented in Wisconsin Women in the War.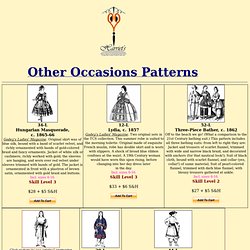 Pattern includes Zouave jacket, skirt, pants and vest. Jacket was of blue merino, trimmed with military buttons and gold lace. Skirt was scarlet merino, trimmed with blue and gold lace. White pants and vest. A number of regiments raised at the beginning of the Civil War were patterned on the French Colonial Zouave Regiments from North Africa. Corset Making Supplies.
---