Website Accessibility & Testing
Page Speed Online. WebPagetest - Website Performance and Optimization Test. Review Of Cross-Browser Testing Tools. Advertisement At some point in the future, the way that all major browsers render Web code will likely be standardized, which will make testing across multiple browsers no longer necessary as long as the website is coded according to Web standards.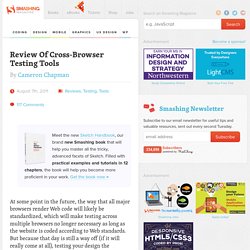 But because that day is still a way off (if it will really come at all), testing your design the advanced browsers as well as legacy browsers is a necessary part of any project. The old-school way to test code was to load your website on as many computers as you could find, using as many different combinations of browsers and operating systems as possible. That was fine if you had access to a bunch of different computers (and had some time to kill). Access for All – Swiss foundation for accessible technologies - Freeware: PDF Accessibility Checker (PAC) PDF-Accessibility-Checker (PAC 2) The freeware program PAC provides a fast way to test the accessibility of PDF files.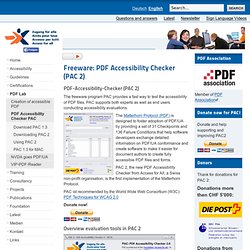 PAC supports both experts as well as end users conducting accessibility evaluations. C mobileOK Basic Tests 1.0. If an HTTP request does not result in a valid HTTP response (because of network-level error, DNS resolution error, or non-HTTP response), FAIL If the HTTP status indicates redirection (status code 3xx): Do not carry out tests on the response If the response relates to a request for the resource under test, or any of its Included Resources (see 2.4.7 Included Resources):
Checklist of Checkpoints for Web Content Accessibility Guidelines 1.0. This version: (plain text, postscript, pdf) This document is an appendix to: Latest version of Web Content Accessibility Guidelines 1.0:
Web Content Accessibility Guidelines 1.0. W3C Recommendation 5-May-1999 This version: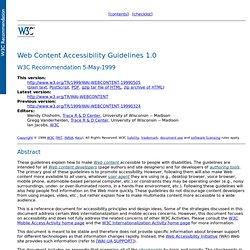 Google Demo - Gmail Signup.
---