CSS Gradients
CSS gradient generator. Linear CSS Gradients that ANY Browser Can See | Web Design Dev. In the past, if you wanted to have an HTML entity to have a gradient background you created in image of a gradient and displayed it in the entity using the background-image attribute in CSS.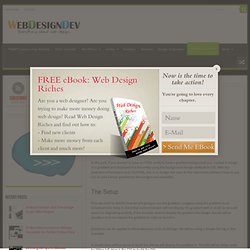 With the evolution of browsers and CSS/HTML, this is no longer the case. In this tutorial we will learn how to use CSS to add a linear gradient to the background of entities. The Setup First, we need to decide how we are going to use the gradient. Ultimate CSS Gradient Generator - ColorZilla.com. Background: #1e5799; /* Old browsers */ background: -moz-linear-gradient(top, #1e5799 0%, #2989d8 50%, #207cca 51%, #7db9e8 100%); /* FF3.6+ */ background: -webkit-gradient(linear, left top, left bottom, color-stop(0%,#1e5799), color-stop(50%,#2989d8), color-stop(51%,#207cca), color-stop(100%,#7db9e8)); /* Chrome,Safari4+ */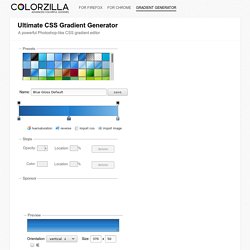 GradientFinder - Convert your Images into CSS Gradients.
---