ILLUSTRATION
m8irmtErbA1rvhk4ho1_500.jpg (JPEG Image, 485×750 pixels) m6m4srISHU1qlrpiko1_500.jpg (JPEG Image, 486×750 pixels) Zoliana_l__Ombrageuse_by_clange_kaze.jpg (JPEG Image, 900×1270 pixels) - Scaled (67. Halfling Executors of Megalys. Illustration - Christian Ward - Freelance Illustrator. Dave Werners Portfolio 2006 - StumbleUpon. Illustration - StumbleUpon. Illustration by Alice Duke - portfolio. Cerberus - pencil/photoshop - personal work print available Making Ghosts - pencil, photoshop - personal work print available Twelve Brothers - pencil, photoshop - personal work Based on the folk tale about twelve brothers who are accidentally turned into crows by their sister print available Boar - pencil, photoshop - personal work see the process here!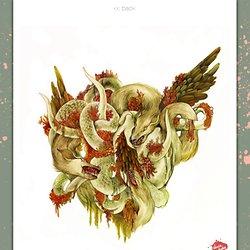 Cover and interior artwork for 12 inch record - pencil, photoshop. Looks like good Illustrations by Anton Semenov. The Illustration of Kareena Zerefos. 20 Amazing Creature Illustrations by Imaginism. 20 Amazing Creatures Illustration by Imaginism Creating creature illustrations by using just your imaginations is a hard task!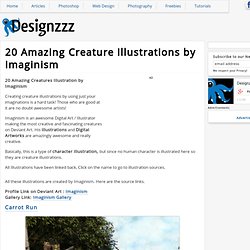 Those who are good at it are no doubt awesome artists! Imaginism is an awesome Digital Art / Illustrator making the most creative and fascinating creatures on Deviant Art. His illustrations and Digital Artworks are amazingly awesome and really creative. Basically, this is a type of character illustration, but since no human character is illustrated here so they are creature illustrations. Steven Russell Black | Illustration. Illustration. Wonderful Illustrations of the Wizard of Oz | Abduzeedo | Graphic Design... 641_max.
Twins by JasonChan - Jason Chan. Lure the world by *feimo on deviantART. Media & Karikatuur. Grzegorz Domaradzki aka Gabz. Some designers are full of creativity and Gabz is beyond that.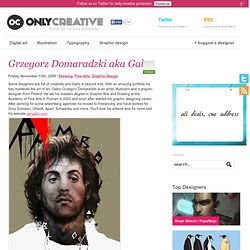 With an amazing portfolio he has mastered the art of art. Gabz/ Grzegorz Domaradzki is an artist, illustrator and a graphic designer from Poland. Art Department Illustration Division 2011. Illustrations by Marcos Chin. 100 Illustrated Horror Film Posters: Part 1. For some, Halloween means costume parties and drunken debauchery.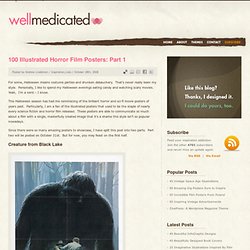 That's never really been my style. Personally, I like to spend my Halloween evenings eating candy and watching scary movies. Yeah, I'm a nerd – I know. This Halloween season has had me reminiscing of the brilliant horror and sci-fi movie posters of years past. Particularly, I am a fan of the illustrated posters that used to be the staple of nearly every science fiction and horror film released. Minjae Lee su DeviantArt - Designaside.com. Night Butterfly by `Wishmistress. Tyson McAdoo - Work - Ladies. 2009- Illustration : Natalie Shau. Bean Sidhe Clann By NiAnluain & Boyofbow's Weblog. Hestia by Juli-SnowWhite picture on VisualizeUs. Nerdanel por Ember picture on VisualizeUs. Frank Stockton Illustration.
Sink, oil on canvas, 66 x 58 in., 2014 working on a lot of things at once right now.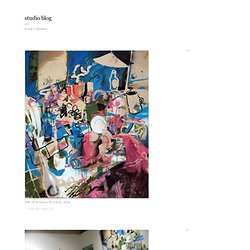 Sink, oil on canvas, 49 x 32 in., 2014 Sink, oil on canvas, 78 x 46 in., 2014 four bathers burlap, 9 x 12 in., ea., respectively. I am fortunate enough to be included in a show at the nonprofit art space, Autonomie Projects, opening this Saturday in Los Angeles from 5-8:30pm. Marleen IllustrationsBest Bookmarks. Illustrations by Michael Molloy. Fantasy Art Gallery. Changming xu - ChangMing - CGHUB. Stanley lau. & Stanley Lau aka Artgerm Amazing Painting: part 1 | The Funny Web. Amberin Huq - Illustration Blog. Фото и рисунки, арт и креативная реклама. The Atmospheric Surrealism of Illustrator Jacek Kaczyński | Illustration ... - StumbleUpon. Frnzxguy. Frnzxguy. Surreal Pop Art Show of the Year.
Illustrations by Noumeda Carbone. Marleen Illustrations. 2009-.. Illustration : Natalie Shau. Illustration. CGPortfolio - Bao Pham. 239380.jpg (JPEG Image, 849×600 pixels) David Bray. Illustrations by Android Blues. Magnificent Storytelling Illustrations (7 total) Israeli-born illustrator Tomer Hanuka creates incredibly interesting scenes.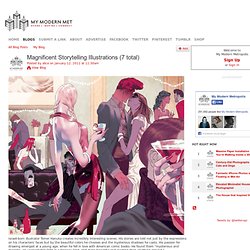 His stories are told not just by the expressions on his characters' faces but by the beautiful colors he chooses and the mysterious shadows he casts. His passion for drawing emerged at a young age, when he fell in love with American comic books. He found them "mysterious and majestic, an unreachable light in a faraway land, and more beautiful and exciting than anything around. "
Julia Randall.
---