Programming
Java. Top 20 Design Inspiration Galleries | Web Design Tutorials | Cre. I use web galleries all the time when I'm stuck for an idea.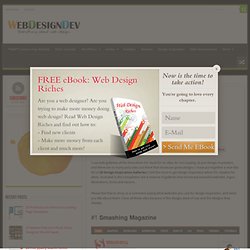 Its not copying, its just design inspiration, and there are so many juicy sites out there that showcase great designs. I have put together a nice tidy list of 20 Design Inspiration Galleries I visit the most to get design inspiration when I'm clueless for ideas. Included in the compilation are a mixture of galleries that showcase beautiful websites, logos, illustrations, fonts and vectors. C programming.com - Your Resource for C and C++ Programming. Free Programming Books.
Here is an uncategorized list of online programming books available for free download.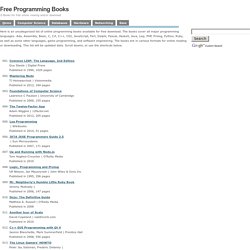 The books cover all major programming languages: Ada, Assembly, Basic, C, C#, C++, CGI, JavaScript, Perl, Delphi, Pascal, Haskell, Java, Lisp, PHP, Prolog, Python, Ruby, as well as some other languages, game programming, and software engineering. The books are in various formats for online reading or downloading. This list will be updated daily. Scroll downn, or use the shortcuts below. Programmer's Heaven - Ruby, .NET, C#, C++, PHP, Python, Java - I.
---