Job search
REI.com Jobs - Search Results
Whether you're new to fundraising or a veteran eager to advance your skills, NDOA's training sessions are loaded with practical tools and information to help you tackle challenges, creatively solve problems and raise more money. This year, we explored lots of new ideas for useful, relevant training and came up with terrific new sessions: • Managing Up and Out on Tuesday, Feb. 11 will help you build stronger internal relationships at work and become a better fundraiser. • Engaging Donors at Different Stages of Life on Wednesday, Feb. 26 will teach you about innovative strategies to engage donors of all ages in a way that deepens their connection to your organization's mission – and motivates them to give more. • Major Gifts: From Wooing to Winning on Tuesday, March 4 will cover the ins and outs of major gift fundraising, from identifying prospects, to securing the visit and most importantly, how to make the ask. Find out about other training opportunities on our Trainings page.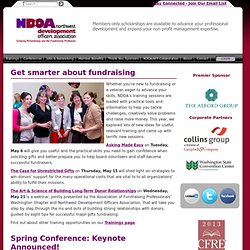 Home
We're hiring! « Cascade Bicycle Club Blog
STG Presents Seattle > About STG > Job Openings
Seattle Theatre Group (STG) is a 501(c)(3) non-profit arts organization dedicated to operating historic theatres: The Paramount, The Moore and The Neptune, in Seattle, Washington. Our mission is to make diverse dance, music, film, theatre and arts education an integral part of our rich cultural identity while keeping The Paramount, Moore and Neptune Theatres alive and vibrant. STG's vision is to enrich, inspire, challenge and expand our world through the arts; we accomplish this through strategic planning, key partnerships, and hard work. More than 450 engagements annually grace these three stages, including touring award-winning Broadway musicals such as WICKED and THE LION KING; acclaimed international fine arts such as the BOLSHOI BALLET and GRAND KABUKI THEATRE OF JAPAN; renowned dance companies like MARK MORRIS DANCE GROUP and ALVIN AILEY AMERICAN DANCE THEATER; and hundreds of nights of music of all genres, comedy, speaking engagements, and silent film.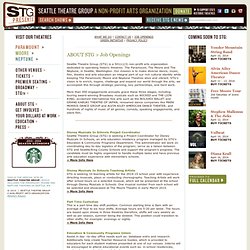 ColorsNWCareers
If you are a job-seeker or looking to start a business, Colors NW Careers gives you the opportunity to understand the details of the business and helps those looking to venture into franchising a chance to take advantage all the potential benefits and challenges that go along with having and managing a franchise. Colors NW Careers also offer prospective franchisees an initial perspective on how to promote the products to consumers. From a marketing perspective, some frozen yogurt franchise businesses feature a variety of convenience menu items other than frozen desserts. One of these are self-serve frozen yogurt machines. Allowing the customers to make their own frozen yogurt and then charge them by weight is one of the effective profitable factor for the business. Colors NW Careers brings together qualified and professional candidates who are willing to venture into franchising.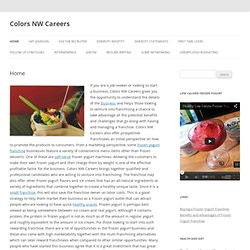 University of Washington Employment -
The Seattle Symphony employs a talented and dedicated administrative staff. We only accept applications for open positions as listed below. Corporate Development Intern Graphic Design Intern Part-Time Sales Representative Part-Time Soundbridge Discovery Coordinator Planned Giving Director Ticket Services Representative (Part-Time) Vice President of Sales and Marketing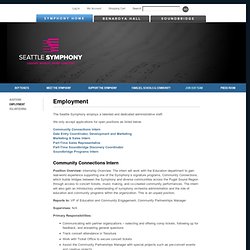 Employment | Seattle Symphony Orchestra
REI.com Jobs - Search Results
REI Job Bulletin
PNW - Job Bank