Guitar
Austin Criswell - Lullaby Chords by Misc Unsigned Bands. Next Level Guitar Lessons - Learn How To Play Guitar from Beginner to Expert. Easy Lead Guitar | Guitar Scales. Use a flat-pick and alternate picking techniques or just fingerpick.
To economize movement and develop better speed, practice using alternate picking that means hitting a note on both the down stroke and up stroke of the pick. But a word of caution, don't get too carried away with alternate picking or your music will just sound like a machine gun firing notes to impress people. Sometimes only using down strokes creates the sound, the feel and the pace that really taps into emotions. Guitar Solo - Scales, Chops, Licks, Technique, Improvisation, Guitar Lessons.
Before The Storm Chords (ver 2) by Jonas Brothers. Phrygian Dominant Scales | Lessons. The Phrygian Dominant scales are some of the most popular scales in music, especially in the Middle East.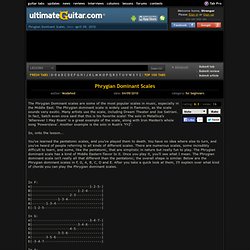 The Phrygian dominant scale is widely used in flamenco, as the scale sounds very exotic. Many artists use the scale, including Dream Theater and Joe Satriani. In fact, Satch even once said that this is his favorite scale! The solo in Metallica's 'Wherever I May Roam' is a great example of the scale, along with Iron Maiden's whole song 'Powerslave'.
True Colors Chords by Glee Cast. Until We Meet Again Chords by Showbread. Canon Rock tab by Jerryc.
---