PlugIn Repositories
On VisualTW , you will find several plugins for TiddlyWiki Wysiwyg edition EasyEdit , a lite and fully integrated solution. FCKEditor , a more powerful solution, but requires an external component ( FCKeditor ). Externalize , to edit tiddlers in your favorite application like html editor, text or word processor, javascript IDE, css editor, ...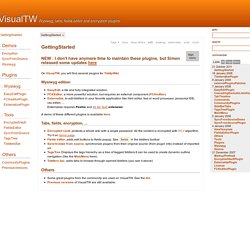 Popular Plugin Sites - TiddlyWiki.org
twab - the tiddly wiki address book
Welcome to TiddlyWiki created by Jeremy Ruston, Copyright © 2007 UnaMesa Association <div id="javascriptWarning">This page requires JavaScript to function properly.</p><p>If you are using Microsoft Internet Explorer you may need to click on the yellow bar above and select 'Allow Blocked Content'.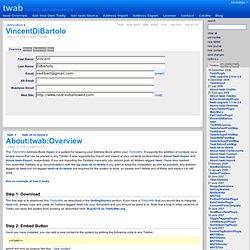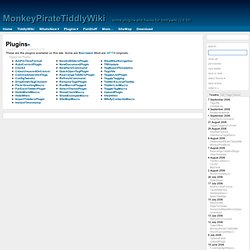 MonkeyPirateTiddlyWiki - some plugins and hacks for tiddlywiki (2.0.10)
* A tiddler's tags are show ''above'' the tiddlers title (instead of in a right-floated box).\n* A tiddler's tagging list is shown ''below'' the tiddlers content (instead of in a left-floated box).\n* When editing a tiddler the tags edit box is above the tiddler content (instead of below).\nThese layout changes are done with small changes to ViewTemplate (See TagglyTaggingViewTempplate) and EditTemplate (see TagglyTaggingEditTemplate) and with some CSS from TagglyTaggingStyles.
Bullet List Accordion Menu
Bullet List Accordion Menu In this menu example, the menu headers are H3 tags, with each sub menu being UL tags that expand/ contract. A CSS class gets dynamically added to a header when it's expanded to style the expanded header.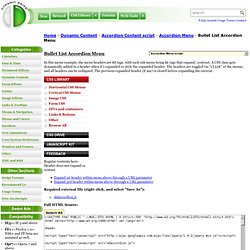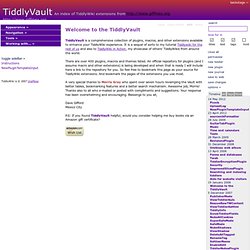 (filler)TiddlyVault is a comprehensive collection of plugins, macros, and other extensions available to enhance your TiddlyWiki experience. It is a sequel of sorts to my tutorial Tiddlywiki for the rest of us and also to TiddlyWiki in Action, my showcase of others' TiddlyWikis from around the world. There are over 400 plugins, macros and themes listed.
TiddlySnip - Firefox extension that lets you use your TiddlyWiki as a scrapbook
''~TiddlySnip is a Firefox extension that lets you use your ~TiddlyWiki as a scrapbook! Simply select text, right click and choose '~TiddlySnip selection'. Next time you open your ~TiddlyWiki file, your snippets will be there, already tagged and organised.''\n\n[[Full list of features.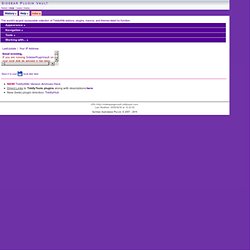 Help Tips » » » » Both toggles Edit and NoTabscan be set to default to either show or hide upon startup; in the SlantedMenu. Tabs can be put into edit mode by double-clicking on them and can be saved by clicking on the exclamation-mark (!) in the tab itself.
SidebarPluginVault - TiddlyWiki plugins and extensions
Call directly into TW core utility routines, define new functions, calculate values, add dynamically-generated TiddlyWiki-formatted output into tiddler content, or perform any other programmatic actions each time the tiddler is rendered. Documentation see InlineJavascriptPluginInfo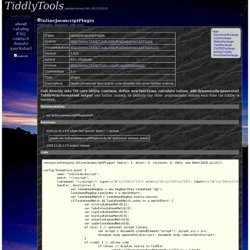 Small Tools for Big Ideas™
LaunchApplicationPlugin - Sourced from Remotely-Helpful.com
TiddlySnip - Firefox extension that lets you use your TiddlyWiki as a scrapbook