Microsoft
SharePoint. Business Resource Center | Home.
Microsoft Office 2010 Engineering : SmartArt Diagram Improvement. In Office 2007 we introduced SmartArt diagrams, a tool designed to simplify the process of creating quality graphical layouts.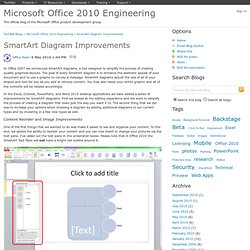 The goal of every SmartArt diagram is to enhance the aesthetic appeal of your document and to use a graphic to convey a message. SmartArt diagrams adjust the size of all of your shapes and text for you as you add or remove content. 10 things to consider before transitioning from Exchange 2003 to. Yung Chou on Windows Technologies. Blogs. Learning: Microsoft Silverlight Learning Snacks.
---