Starters in 2010
Passionate about creating. Een onbereikbare markt openen - Challenger.
Planely. Geomium | What's going on around you? Welcome - LikeOurselves. Storific. DataSift: Realtime Social Data Mining Platform. SUPERMARMITE - It's cookin'up near you! Viewdle | Cross-platform Face Recognition | Tag Friends in Your Photos & Videos.
Screach. Shutl | Online delivery revolution. Diigo - Web Highlighter and Sticky Notes, Online Bookmarking and Annotation, Personal Learning Network. Diigo voor uw favorieten. Met diigo kunt u uw favoriete websites handig bijhouden.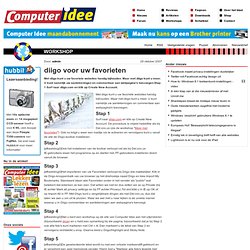 Maar met diigo kunt u meer. U kunt namelijk uw aantekeningen en commentaar aan webpagina's toevoegen.Stap 1 Surf naar diigo.com en klik op Create New Account.
Informatie en WebIndexen
---