Gardening Mail Order
Guide to Gardening by Mail, Mail Order Gardening, and Catalogs. The Garden Watchdog is a free directory of 7,705 mail order gardening companies.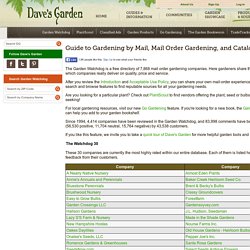 Here gardeners share their opinions on which companies really deliver on quality, price and service. After you review the Introduction and Acceptable Use Policy, you can share your own mail-order experiences, or use our search and browse features to find reputable sources for all your gardening needs. Are you looking for a particular plant? Check out PlantScout to find vendors offering the plant, seed or bulbs you're seeking!
The Lily Auction - Auction page for Daylilies. Lily Bulbs - Welcome to the Lily Nook - Mail order lilies. Lily Bulbs (Catalog listing) Home > American-grown lilies, from our garden to yours™ B&D Lilies' bulbs are AMERICAN-GROWN in the Pacific Northwest, which allows firm, mature bulbs to be harvested in time for safe delivery to you FALL through SPRING to any mailing address in the lower 48 states and Alaska.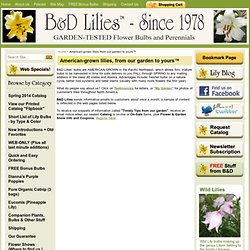 Advantages include: fresher bulbs on a natural cycle, better root systems and taller stems (usually with many more flowers the first year). What do people say about us? Click on Testimonials for letters, or "My Garden" for photos of customer's lilies throughout North America.
---