Appetizers
Macaroni and Cheese. Serves 6 Active time: 20 minTotal time: 1 hr Chefs may be vying to outdo one another with unusual takes on the classic, but we think simple is best.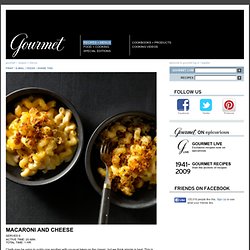 This is our favorite mac and cheese. It's rich and creamy (the combination of extra-sharp Cheddar and Parmigiano-Reggiano is key) and crowned with the tastiest bread crumbs. Super Bowl Recipe Week: Mini Corn Dog Muffins. The original Mini Corn Dog Muffins!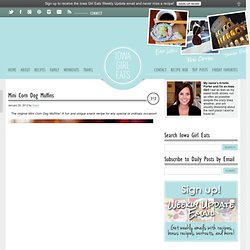 A fun and unique snack recipe for any special or ordinary occasion! Are you ready for some footballllll food?! :) Bacon Double Cheese Burger Dip. The Super Bowl is quickly approaching and that means that it is time to start dusting off some recipes for snacking!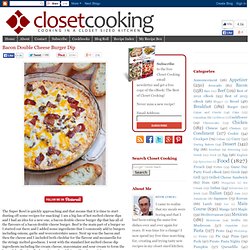 I am a big fan of hot melted cheese dips and I had an idea for a new one, a bacon double cheese burger dip that has all of the flavours of a bacon double cheese burger. Beef is the main part of a burger so I started out there and I added some ingredients that I commonly add to burgers including onions, garlic and worcestershire sauce.
Steak fingers with jalapeno cream gravy. "You're not a fan of 'Friday Night Lights?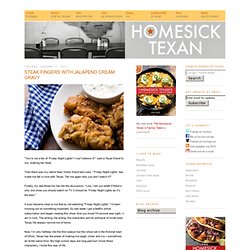 I can't believe it!'" Said a Texan friend to me, shaking her head. Angie's Recipes . Taste Of Home. Fried Finger Food Appetizer Recipes. Sausage Biscuit Bites - Football Friday. It's tailgating time again!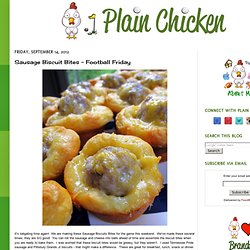 We are making these Sausage Biscuits Bites for the game this weekend. We've made these several times; they are SO good! You can roll the sausage and cheese into balls ahead of time and assemble the biscuit bites when you are ready to bake them. Cream Cheese Sausage Balls - Football Friday. Sausage balls are a classic tailgating treat.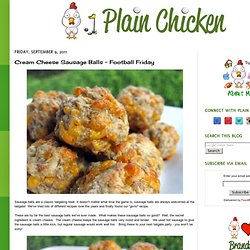 It doesn't matter what time the game is, sausage balls are always welcomed at the tailgate! We've tried lots of different recipes over the years and finally found our "go-to" recipe. These are by far the best sausage balls we've ever made. Restaurant Style Orange Chicken. Alright you guys, seriously, this orange chicken tastes exactly like the best orange chicken you've ever had at any restaurant.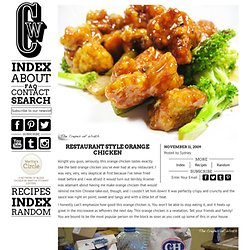 I was very, very, very skeptical at first because I've never fried meat before and I was afraid it would turn out terribly. Kramer was adamant about having me make orange chicken that would remind me him Chinese take-out, though, and I couldn't let him down! It was perfectly crispy and crunchy and the sauce was right on point; sweet and tangy and with a little bit of heat. I honestly can't emphasize how good this orange chicken is. Jenna's Journey: Chicken Roll Ups. I have a great, easy and delicious new recipe to share with you!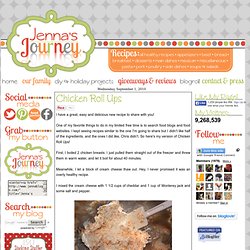 One of my favorite things to do in my limited free time is to search food blogs and food websites. I kept seeing recipes similar to the one I'm going to share but I didn't like half of the ingredients, and the ones I did like, Chris didn't. So here's my version of Chicken Roll Ups! First, I boiled 2 chicken breasts.
---