Volunteer Stuff
I WAS HERE
HOME
Dear Billy and Kevin, I want you to know how much I Love and miss you! I think of you every minute of every day I am here in Iraq. Your pictures are in my hat, my helmet, on the windshield of the HMMWV I drive through Tikrit everyday and all over the walls of my CHU.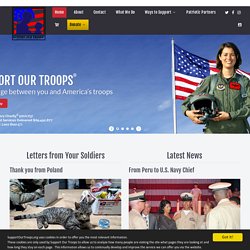 SupportOurTroops.org - Your place to connect, support, donate
Any Soldier Inc. ... Where to Send
Project Linus-Volunteer
We are always in need of your help to assist us in fulfilling our mission. You can donate home-made blankets by becoming a "blanketeer," give of your time at a local chapter event, or even become a Chapter Coordinator yourself. Become a "Blanketeer" Our volunteers, known as "blanketeers," provide new, handmade, washable blankets to be given as gifts to seriously ill and traumatized children, ages 0-18. It is Project Linus' policy to accept blankets of all sizes, depending on local chapter needs. All blanket styles are welcome, including quilts, tied comforters, fleece blankets, crocheted or knitted afghans, and receiving blankets in child-friendly colors.