Underwear
Men's Underwear Blog - The Underwear Expert. Mens Underwear, Men's Swimwear, Jockstraps, Mens Thongs, Briefs, Boxers, Athletic Supporters, Compression Shorts, Sports Brief. MensUnderwearStore.com - Boxers, Briefs, Jock Straps and more. Mens Underwear from Skiviez, The Men's Underwear Authority - Briefs, Boxers, Jocks, Thongs, T-Shirts, and more! | Skiviez | The Men's Underwear Authority. Underwear. The Todd Sanfield Collection. Men's Underwear & Swimwear | FREE DELIVERY | Shop at BangLads. Pierre Wear. James Tudor Underwear, Welcome to The Official Site. Mens Underwear, Swimwear For Men, Pouch Underwear, Sexy Mens Swimwear | Cocksox™ Big Roger Underwear - Welcome. Mack Weldon. Home. Union suit. Jockey Official Site | Shop Over 600 Styles of Underwear & T-Shirts.
PUMP! Underwear - Official Website. Founded in 2009 with brand headquarters in Montreal, Canada, PUMP!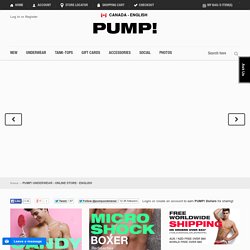 Underwear combines a sense of sport with fun fashion trends and daring ideas. Being one of the first to implement splatter and graffiti style painting on their underwear, PUMP! Loves to keep their demographic open, hoping to appeal to all audiences with their underwear. Men's Underwear & Swimwear. Mens fashion and clothing including swimsuits and apparel at Timoteo.net (Powered by CubeCart) CIN2U. C-IN2 is famous for its sexy men's underwear.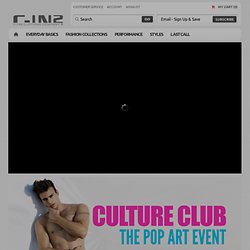 The product line includes low rise briefs, boxers, boxer briefs, trunks, thongs, jock straps, crew neck t-shirts, v-neck t-shirts, tank-tops, t-shirts, sleeveless t-shirts, long underwear, and socks. If you know that you're a "grower" or a "shower," C-IN2 even makes a pouch size to accommodate different sizes and shapes of the male anatomy in the Personal Fit Factor collection. From fashion designer Gregory Sovell, the original creator of 2(x)ist, C-IN2 was born. The purpose was to continue the evolution of the best men's underwear in the market today. C-IN2 quickly became a leading force and the utmost authority on underwear by making the best quality product in the industry.
UnderGear.
---