Ecommerce Research
Adriano's blog
Mr. Aronson co-founded MentorTech and has had a more than 30 year career working with technology companies. He has significant expertise in company formation around business school concepts, software development, capital raising, strategic alliances and joint ventures, financial reporting and tax issues, executive compensation, employment matters and copyright law. He represents MentorTech on the Board of The Neat Company, Ticketleap, Soft Tissue Regeneration , SeniorHomes.com, Innova Dynamics, EyeIC, DietTV and NeuroDiagnostic Devices. He serves as a Board Observer at Bioconnect, Gentis, Kembrel and Medivo and served at Wanderfly prior to their acquisition. He acted as an advisor to management at Merchant Circle, Yodle, and Diapers.com.
Early Stage Venture Capital Fund @ PENN | MentorTech Ventures - Our Team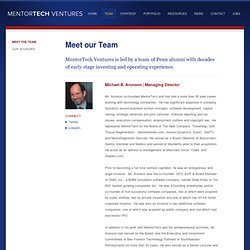 Annual e-commerce spending in China will reach 2 trillion yuan (US$315 billion) by 2015, a 320% increase from 476 billion yuan (US$75 billion) in 2010, according to a projection released this week by The Boston Consulting Group. The research firm says China has 145 million online shoppers, second only to the 170 million online shoppers in the United States. By 2015, the report says, the value of e-commerce sales in China will surpass that in the United States. "Online spending in China is expected to surge over the next five years as personal incomes and comfort with online shopping increase," says the consulting firm.
Industry Statistics - E-commerce spending in China set to increase 320% by 2015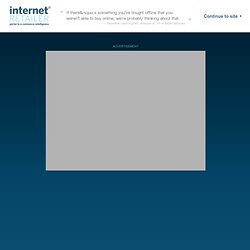 BEV Capital is no longer investing. It is a venture capital firm specializing in investments in the consumer companies and supporting technologies for consumer companies. Its consumer company's investments include retailers, Internet businesses, consumer products, consumer services, consumer Internet, media, e-commerce, and restaurants.
BEV Capital: Private Company Information - BusinessWeek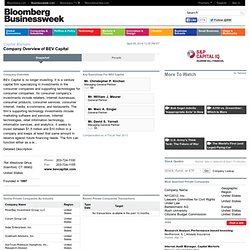 MentorTech Ventures is a seed- and early-stage venture capital fund that invests in companies from the University of Pennsylvania ecosystem. These companies typically have key founders or managers who are students, faculty members or alumni of the university. Sometimes, the companies are based on intellectual property that originated at Penn. We primarily focus on investments in the information technology, marketing technology and physical sciences industries, where our experience and our networks allow us to add the most value to companies. We will consider investments in other areas, however, if the company has a sufficiently strong connection to Penn and a strong syndicate of co-investors with deep domain expertise. Learn More About Our Strategy
Early Stage Venture Capital Fund @ PENN | MentorTech Ventures - Home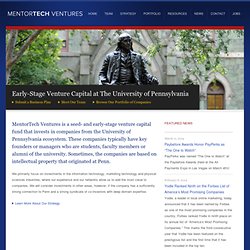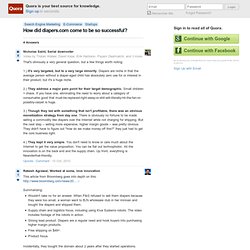 How did diapers.com come to be so successful
That's obviously a very general question, but a few things worth noting: 1.) It's very targeted, but to a very large minority. Diapers are niche in that the average person without a diaper-aged child has absolutely zero use for or interest in their product, but it's a huge niche. 2.)
How does Diapers.com DO it?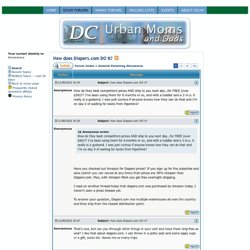 Anonymous wrote: How do they beat competitors prices AND ship to you next day...for FREE (over $50)?? I've been using them for 6 months or so, and with a toddler and a 3 m.o. it really is a godsend. I was just curious if anyone knows how they can do that and I'm on day 9 of waiting for boots from Piperlime? Have you checked out Amazon for Diapers prices? If you sign up for the subscribe and save (which you can cancel at any time) their prices are 30% cheaper than Diapers.com. Plus, with Amazon Mom you get free overnight shipping.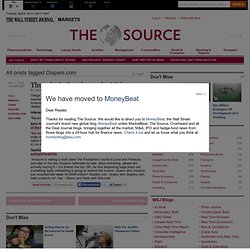 Diapers.com - The Source
Things that caught our eye around the finance and business-related web. Think you've got something for tomorrow's list? Email Lauren Mills or direct message us on Twitter @wsjthesource Interactive Investor: Helphire: Risky business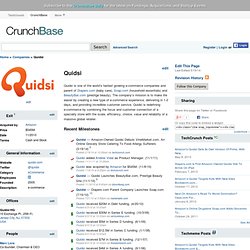 Quidsi
Co-founder, Chairman & CEO Co-founder, Chief Operating Officer and General Counsel Chief Technology Officer Vice President & CIO
1. Fast, Free ShippingShipping is always free when you spend $49 or more, and we ship FAST - overnight to more than 75% of the country, and in 2 days to everyone else. Plus, this now includes Saturday delivery to most of the country.
Baby & Toddler Holiday Gifts - Toys, Clothes, More | Free Shipping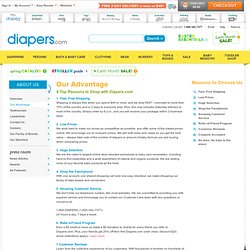 Quidsi Opens Third Website to Sell Women's Beauty Products
Quidsi Inc., the owner of Diapers.com and Soap.com, opened a third site focused on upscale beauty products as it seeks to gain share in online commerce. BeautyBar.com will carry 3,000 items from brands including Bliss, Bond No. 9 and Dermalogica, the Jersey City, New Jersey- based company said in an e-mailed statement. Quidsi, which opened in 2005, is trying to make inroads against Amazon.com Inc. and Drugstore.com Inc. by offering faster shipping and customer service that includes a 365-day return policy.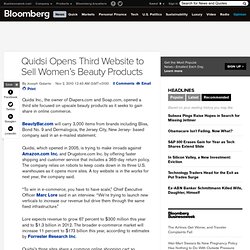 Diapers.com's innovative Web strategies turn customer acquisition and retention into an art form.
Diapers.com Rocks Online Retailing - Forbes.com
A recent post by Shopify shows why Pinterest remains the darling for ecommerce and online shopping sites After analyzing data from 25,000 Shopify stores, discovered that referral traffic from Pinterest to Shopify stores is equal to traffic coming from Twitter. Of the traffic from Pinterest, shoppers are 10% more likely to make a purchase compared to those who arrive from other social sites. Of those purchases, the average order...
Facebook Reaches Over Half of US Web Users | LDS Media Talk
ERP, CRM and eCommerce Blog » World-Wide eCommerce Trends: Asia Pacific Ranks Fastest Growing Region
Home > CTO, eCommerce > World-Wide eCommerce Trends: Asia Pacific Ranks Fastest Growing Region While the ecommerce market in the U.S. is now considered to be a mature segment of the retail industry, In Asia Pacific the expansion of this space remains in its early stages. eCommerce in USA still continues to outpace traditional brick and mortar retail. However in Asia Pacific the growth in eCommerce is staggering. However, unlike traditional beliefs that Asian consumers are averse to shopping online a report released in 2010 on Global Trends in Online Shopping revealed that only 13% of Internet users in Asia Pacific had never shopped online which was lower than the global average where 16% of users had never shopped online.
Consumer Attitudes to Local Search Reveal Problems and Opportunities for Brands A study from ConstantContact last year found that 1 in 2 small businesses failed to ever update their online listings, and that an equal share have seen inaccurate listings for their businesses online. Now, new research [download page] from Placeable reveals the extent of the damage inaccurate listings can have on a brand: some 73% […] Read more » African-Americans and Hispanics Combine For One-Fifth of Estimated National Discretionary Spending
nielsen-global-ecommerce-most-popular-online-purchases-copy.jpg