WPF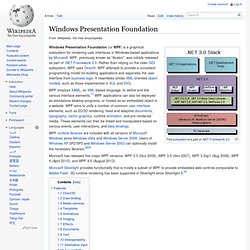 Windows Presentation Foundation
Windows Presentation Foundation (or WPF) is a graphical subsystem for rendering user interfaces in Windows-based applications by Microsoft. WPF, previously known as "Avalon", was initially released as part of .NET Framework 3.0. Rather than relying on the older GDI subsystem, WPF uses DirectX.
WPF : Weird 3D Level Tree Like Control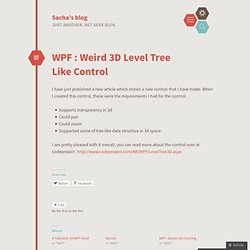 I have just published a new article which shows a new control that I have made. When I created this control, these were the requirements I had for the control. Supports transparency in 3d Could pan Could zoom
HierarchicalDataTemplate and TreeView - David Sackstein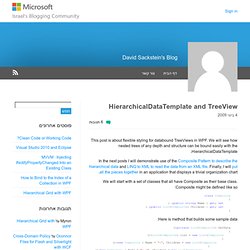 This post is about flexible styling for databound TreeViews in WPF.
AvalonControlsLibrary
AvalonDock
Over the past couple of months I have developed a bunch of custom controls and utility classes, which people have found useful. However all of these were released independently, had differing namespaces and lacked a common point of download. Well, not anymore ! I have launched a new CodePlex project called FluidKitthat aims to tie in all my work under a common library. All future custom controls and WPF goodies will be added to this library. As of today the following items are part of the library: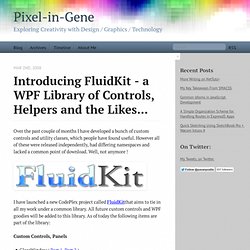 Introducing FluidKit – A WPF Library of Controls, Helpers and the likes…
WPF Dialogs
XAML Power Toys « Karl On WPF – .Net
Silverlight & WPF Timeline Control
WPF Tutorial