Exercise
Joel Harper's Morning Workout. Sworkit | Circuit Training App. SuperBetter. Home page | Cut and Jacked. LIVESTRONG.COM - Lose Weight & Get Fit with Diet, Nutrition & Fitness Tools. How to Get in Shape Without Weights. CHEST The first muscle we will talk about training is the chest, mainly due to it's one of the most popular and easily trained muscles.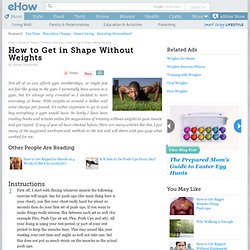 In my routine I do not say do 15 reps or 20 reps, the reps in push ups is up to you. So I use my max push ups (the most I can do until I can not push myself back off the floor). Then I cut that in half. Training Like an Athlete. Core Blasting Workout Without Sit-ups or Crunches. A great tip is an awesome thing.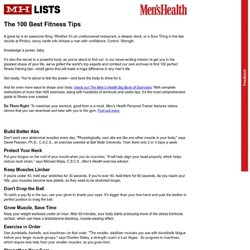 Whether it's an undiscovered restaurant, a sleeper stock, or a Sure Thing in the late double at Pimlico, savvy inside info imbues a man with confidence. Control. Strength. Knowledge is power, baby. SimplyShredded.com. 4 Great Core Exercises To Help Flatten Your Abs « Don't Eat Dirt. Everyone wants flatter abs, and a lot of people try to "spot reduce" by doing ab exercises to try to get them.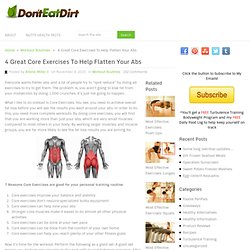 The problem is, you aren't going to lose fat from your midsection by doing 1,000 crunches. It's just not going to happen. What I like to do instead is Core Exercises. You see, you need to achieve overall fat loss before you will see the results you want around your abs. In order to do this, you need more complete workouts. Pete Physique – The Smart Guide to Weight Training | The Peter Le Store. Pete Physique - 3 eBook Collection After years of doing personal training and helping over a thousand clients get in better shape and feel better about themselves, I decided to write a collection of books to help and encourage people to get fit.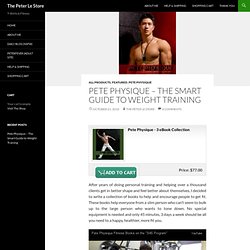 These books help everyone from a slim person who can't seem to bulk up to the large person who wants to tone down. Home | Gymnastics WOD. Get Rid Of Your Armpit Fat. Strava | Running and Cycling GPS Tracker, Performance Analytics, Maps, Clubs and Competition. Boston Personal Trainers, MMA Strength and Conditioning Coach, Massachusetts; in MA, Fitness classes, MMA Conditioning Coach, UFC, Core Strength Training, Boston, No Equipment, no problem: 92 Crossfit Workouts with no equipment | The Moose is Loose. No Equipment, no problem: 92 Crossfit Workouts without equipment Written by "> | posted in Workouts | 72 Comments Over the weekend I had a workout in the local park adjacent Kitsilano Beach (an area in Vancouver).
We had access to a pull-up station next to the basketball courts, so what workout would make sense? The Best Of The Best: Here Are 20 Gems Of Wisdom You Need To Know. Think of this list as the Academy Awards of getting bigger, stronger and leaner: It's a collection of tips that represent total domination in the gym.
Each "best" selection was chosen based on either bona fide scientific data, overwhelming anecdotal evidence by hardcore gym rats around the world or both. Looking for the best way to add thickness to your arms, carve out a six-pack or throw around more weight than you ever have? You'll find the answer here. 1) Best For Big Biceps: Barbell Curl. BODYROCK.tv | Fitness Advice, Workout Videos, Health & Fitness | Bodyrock.tv. Weight Loss Community at traineo | Weight Loss Forum, Weight Loss Help.
---