Strategy Board Gaming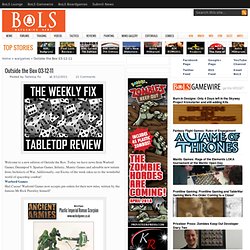 Welcome to a new edition of Outside the Box. Today we have news from Warlord Games, Dreampod 9, Spartan Games, Infinity, Mantic Games and adorable new terrain from Architects of War. Additionally, our Exotic of the week takes us to the wonderful world of spaceship combat! Warlord Games
Warhammer 40k, Fantasy, Wargames & Miniatures News: Bell of Lost Souls: Outside the Box 03-12-11
Historical Games A-Z « Homefront Wargame Center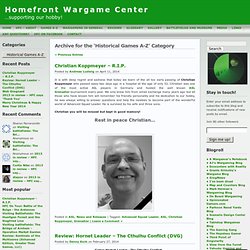 Game: Phantom Leader Deluxe Edition Publisher: DVG Published in: 2013Designer: Dan VerssenEra and Topic: Vietnam War / Historical / Air-to-Air and Air-to-Ground warfareComponents: 336 Full Color Cards, Full Color Rulebook, 2 Full Color Counter Sheets (2×176 – 5/8" counters), 8 Full Color Campaign Sheets, 1 11"x17" Full Color Mounted Tactical Display, 1 Full Color Player Sheet, 1 Ten-sided Die, 1 Full Color Player Log SheetGame Type: Mixed: Board, counters, card-driven Our Rating (1-10):
The photo above compares three plastic figures from HaT (A,C,E) with a pair of metal soldiers from Newline Designs (B,D). Click on the image to see a larger version. Manufacturer's Designation and Number of Poses:
-30BC-476AD Wars of the Roman Empire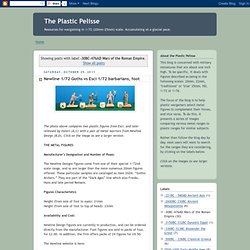 Games: Board Games & Card Games
Board Games » 'Bored'? – Play Board games! :)
Board Gaming HQ - Part 5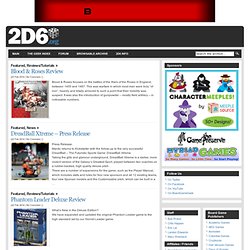 Press Release: Mantic returns to Kickstarter with the follow-up to the very successful DreadBall – The Futuristic Sports Game: DreadBall Xtreme. Taking the glitz and glamour underground, DreadBall Xtreme is a darker, more violent version of the Galaxy's Greatest Sport, played between two coaches on a rubber-backed, high quality deluxe pitch. There are a number of expansions for the game, such as the Player Manual, which includes stats and rules for four new sponsors and all 12 existing teams, four new Sponsor models and the Customizable pitch, which can be built in a …
Games: Board Games: Print and Play
Firestorm Armada: Token and Template Set [SPG FARB002] - $8.95 : Greenwood Games, Strategy Gaming at its Finest.