Strategy Board Gaming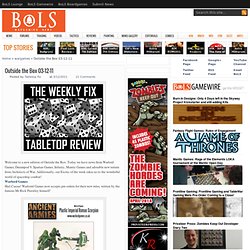 Welcome to a new edition of Outside the Box. Today we have news from Warlord Games, Dreampod 9, Spartan Games, Infinity, Mantic Games and adorable new terrain from Architects of War. Additionally, our Exotic of the week takes us to the wonderful world of spaceship combat! Warlord Games
Warhammer 40k, Fantasy, Wargames & Miniatures News: Bell of Lost Souls: Outside the Box 03-12-11
Historical Games A-Z « Homefront Wargame Center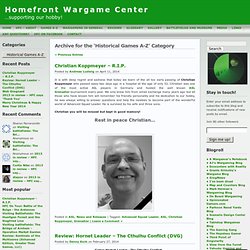 Game: Thunderbolt / Apache Leader: Joint Attack Weapons System Publisher: GMT Games Published in: 1991 Designer: Dan Verssen Era and Topic: Contemporary / Close Air Support combat / Aircraft and attack helicopters Components: 110 full-color two-sided cards, 300 full-color two-sided counters, one 22×17" full-color combat display, one 10-sided die, 20-page rulebook, Sector Map, Pilot / Crew experience log, aircraft & pilot damage chart Game Type: Solitaire or coop / card-driven / counters Our Rating (1-10): Graphic Presentation: 7 Rules: 7 Playability: 8 Replay Value: 9.5
The photo above compares three plastic figures from HaT (A,C,E) with a pair of metal soldiers from Newline Designs (B,D). Click on the image to see a larger version. Manufacturer's Designation and Number of Poses:
-30BC-476AD Wars of the Roman Empire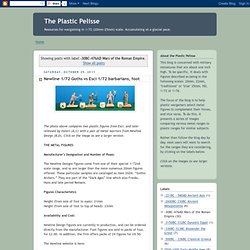 We've gotten a little behind on announcing our winners for our game grants program, but this post should catch us all up!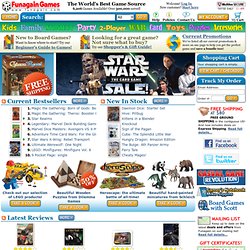 Board Games » 'Bored'? – Play Board games! :)
Board Gaming HQ - Part 5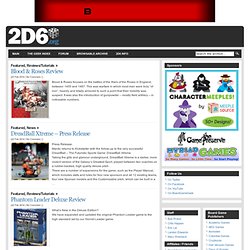 Due to the overwhelming demand for Ascension Online and on Android, the team at Stone Blade Entertainment will be launching a short Kickstarter campaign, starting Monday, Feb. 18 – 28, 2013 - to help raise funding for resources to bring in a solely dedicated, in-house team of Ascension programmers to deliver Ascension Online and Android by the end of this year. New Kickstarter features will include: · Ascension Android app (Free-to-play, including iOS) · Ascension Online (Free-to-play) · Online Tournaments · Single player campaign mode · Broader Ascension multiple player and cross-platform play · Quicker digital expansions While making Ascension …
Games: Board Games: Print and Play
Firestorm Armada: Token and Template Set [SPG FARB002] - $8.95 : Greenwood Games, Strategy Gaming at its Finest.