Strategy Board Gaming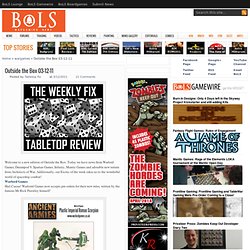 Welcome to a new edition of Outside the Box. Today we have news from Warlord Games, Dreampod 9, Spartan Games, Infinity, Mantic Games and adorable new terrain from Architects of War. Additionally, our Exotic of the week takes us to the wonderful world of spaceship combat! Warlord Games
Warhammer 40k, Fantasy, Wargames & Miniatures News: Bell of Lost Souls: Outside the Box 03-12-11
Historical Games A-Z « Homefront Wargame Center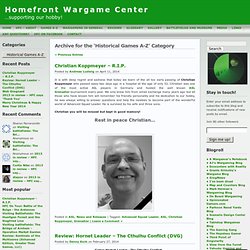 Game: Phantom Leader Deluxe Edition Publisher: DVG Published in: 2013Designer: Dan VerssenEra and Topic: Vietnam War / Historical / Air-to-Air and Air-to-Ground warfareComponents: 336 Full Color Cards, Full Color Rulebook, 2 Full Color Counter Sheets (2×176 – 5/8" counters), 8 Full Color Campaign Sheets, 1 11"x17" Full Color Mounted Tactical Display, 1 Full Color Player Sheet, 1 Ten-sided Die, 1 Full Color Player Log SheetGame Type: Mixed: Board, counters, card-driven Our Rating (1-10):
The photo above compares three plastic figures from HaT (A,C,E) with a pair of metal soldiers from Newline Designs (B,D). Click on the image to see a larger version. Manufacturer's Designation and Number of Poses:
-30BC-476AD Wars of the Roman Empire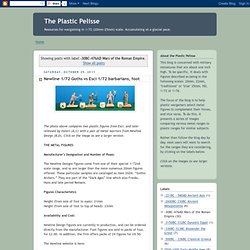 Board Games » 'Bored'? – Play Board games! :)
Board Gaming HQ - Part 5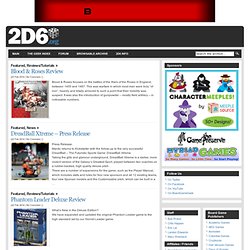 Hegemonic is a game of galactic exploration, empire building, conflict, and cunning for 2-6 players playable in 30 to 45 minutes per player. Each player assumes the leadership of a Great House. Players will explore sectors of the galaxy; build up their empire's industrial, political, and martial capacity; employ far-reaching technologies to outmaneuver and out fight competing empires; and perform calculated actions to plot their way to hegemony.
Games: Board Games: Print and Play
Firestorm Armada: Token and Template Set [SPG FARB002] - $8.95 : Greenwood Games, Strategy Gaming at its Finest.