Freeware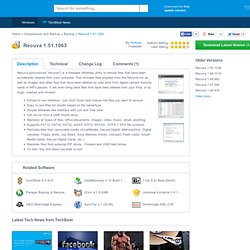 Recuva (pronounced "recover") is a freeware Windows utility to restore files that have been accidentally deleted from your computer. This includes files emptied from the Recycle bin as well as images and other files that have been deleted by user error from digital camera memory cards or MP3 players. It will even bring back files that have been deleted from your iPod, or by bugs, crashes and viruses!
Download Recuva 1.42.544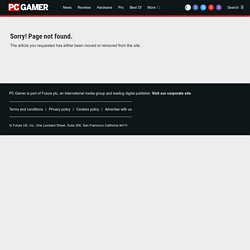 You have to admit, Windows is a pretty barebones operating system, feature-wise. After a fresh install of XP or Vista (perhaps following a Clean Start), you're faced with a barren Start Menu and an empty desktop that's beaming with limitless potential. The problem is that it's up to you to hunt and download those applications that you really need in your day-to-day computing experience.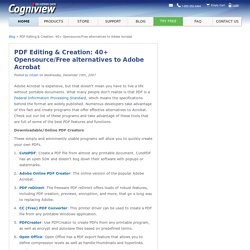 Posted by nitzan on Wednesday, December 19th, 2007 Adobe Acrobat is expensive, but that doesn't mean you have to live a life without portable documents. What many people don't realize is that PDF is a Federal Information Processing Standard, which means the specifications behind the format are widely published.
PDF Editing & Creation: 50+ open source/free alternatives to Adobe Acrobat
Top 15 free tools for every Windows desktop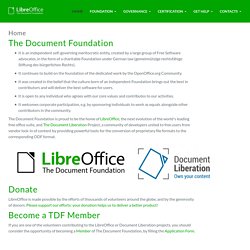 Welcome It is an independent self-governing meritocratic entity, created by former leading members of the OpenOffice.org Community, in the form of a charitable Foundation under German law (gemeinnützige rechtsfähige Stiftung des bürgerlichen Rechts).It continues to build on the foundation of ten years' dedicated work by the OpenOffice.org Community.It was created in the belief that the culture born of an independent Foundation brings out the best in contributors and will deliver the best software for users.It is open to any individual who agrees with our core values and contributes to our activities.It welcomes corporate participation, e.g. by sponsoring individuals to work as equals alongside other contributors in the community. The Document Foundation is proud to be the home of LibreOffice, the next evolution of the world's leading free office suite. Donate LibreOffice is made available by volunteers around the globe, backed by a charitable Foundation.
Microsoft Substitutes
Don't expect new programs with improved usability from the upcoming version of the World's favorite OS Windows XP. Why? Because its the same old Microsoft operating system with added eye candy. Stick to XP, along with all your devices that are not compatible with Windows Vista, and run your favorite non-Microsoft software!
Update January 22, 2013: This article was originally posted February 7, 2008. Since then, it has been one of our most popular articles here at WHdb.com. In light of this, we have decided to give this article an update for 2013: we cleaned out some obsolete links and added a New for 2013 section. Enjoy! Not every proprietary program can drive a person crazy, right?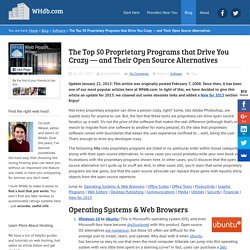 Most designers on a tight budget can get an uncontrolled rapid heartbeat by considering what an investment in a Photoshop license will do to their economy. While it is difficult to argue against Photoshop being the top pick for nearly any photo manipulation, non vector design job etc. there are actually some pretty OK alternatives you can use without spending a single dollar. Question is of course which alternative to use and to help you out I have collected a set of Open Source Photoshop Alternatives you need to be aware of. One of the serious disadvantages you face when not using Photoshop is that you can't learn and self study using the huge number of excellent free tutorials you can find for Photoshop online.
10+ Best Free or Open Source Photoshop Alternative Software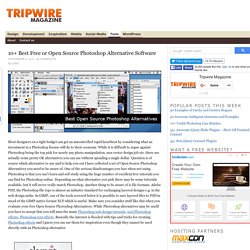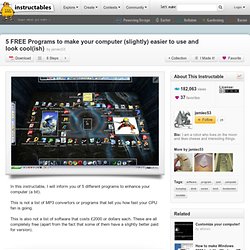 This is a neat little gizmo that sits on any side of the screen. In its original format, I found it slightly obtrusive (it covered up the tool bars). I used these solutions.