Shibari
Find Shibari Art, Photography, T-Shirts & Wall Art at RedBubble
shibari night - een Films & TV video
Bondage japonais
Un article de Wikipédia, l'encyclopédie libre. Couverture du livre Shibari, l'Art du bondage japonais. Le mot shibari (縛り, shibari?) signifiant « attaché, lié », utilisé au Japon pour décrire l'art de ficeler les colis, est devenu l'appellation la plus courante, dans les années 1990, en Occident, pour désigner l'art du bondage kinbaku. Historique[modifier | modifier le code]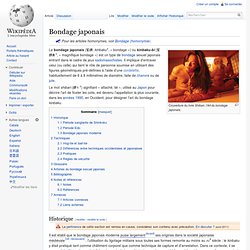 Vidéo, musique et film. Regardez une vidéo maintenant !
Photos © Kasumi Je rends au photographe japonais qui illustrait la note d'hier son nom : Kasumi. On pensera en regardant ces quelques images que ce n'est ni Araki, ni Sugiura. Certes. Mais Araki est un « Grand Maître » de l'objectif et Sugiura un photographe de shibari talentueux sans nul doute, mais « commercial » (il vend ses clichés sur CD).
AURORAWEBLOG | BDSM et Shibari: L'Art du Photographe Japonais Ka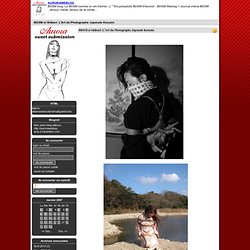 Come inside and lose yourself in a myriad of sensations as you take this journey through fine art photography and Japanese Rope Bondage. You will experience the aesthetic beauty of intricate ties on soft sensual bodies, and feel the tightness of the restrictive, abrasive rope through Masterful photographic images. You will also find imagery from my new City Lights Series which will dazzle you with what was accomplished on location. If the thought, viewing or actions of consensual bondage between consenting adults is objectionable, or viewing images of nude women and/or men is offensive to you or you are under 18 years of age please do not enter. By entering this site you acknowledge that you are of legal age according to the laws of the municipality where you reside.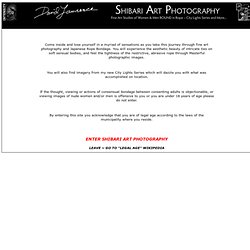 David Lawrence, Shibari Art Photography, Fine Art Studies of Wom