Inspiration
Multicolr Search Lab - Idée Inc.
Fake Name Generator
Learn more about the science of success with Heidi Grant Halvorson's HBR Single , based on this blog post. Why have you been so successful in reaching some of your goals, but not others? If you aren't sure, you are far from alone in your confusion. It turns out that even brilliant, highly accomplished people are pretty lousy when it comes to understanding why they succeed or fail. The intuitive answer — that you are born predisposed to certain talents and lacking in others — is really just one small piece of the puzzle.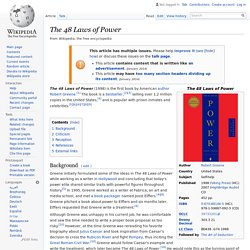 The 48 Laws of Power (2000) is the first book by American author Robert Greene . [ 1 ] The book, an international bestseller , is a practical guide for anyone who wants power, observes power, or wants to arm himself against power. [ 2 ] [ 3 ] [ 4 ] It has sold over 1.2 million copies in the United States alone and is popular with famous rappers , entrepreneurs , celebrities , athletes and actors including 50 Cent , Jay-Z , Kanye West , Busta Rhymes , Ludacris , DJ Premier , Dov Charney , Brian Grazer , Andrew Bynum , Chris Bosh , and Will Smith . [ 4 ] [ 5 ] [ 6 ] [ 7 ] [ 8 ] [ 9 ] [ edit ] Background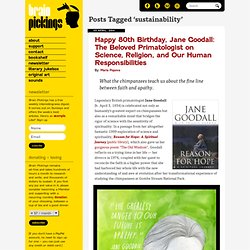 18 DECEMBER, 2012 By: Maria Popova From Thomas Jefferson to the secret history of coffee, by way of urban farming and Downton Abbey. Following this year's best science books , art books , design books , philosophy and psychology books , children's books , history books , and graphic novels and graphic nonfiction , the 2012 best-of reading lists continue with the annual roundup of the year's favorite food-related reads. (Catch up on last year's omnibus here .) If you, like me, believed that Julia Child brought French cuisine to America , you're off — nearly two centuries off. It turns out we owe the feat to Thomas Jefferson, who in 1784 made a deal with one of his slaves, 19-year-old James "Jame" Hemmings, to apprentice him to one of France's finest chefs.
Brain Pickings | Sustainability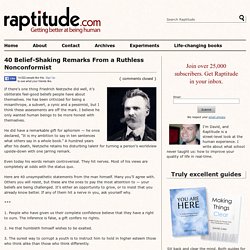 If there's one thing Friedrich Nietzsche did well, it's obliterate feel-good beliefs people have about themselves.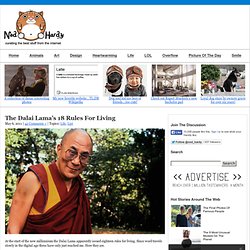 May 6, 2011 | 42 Comments » | Topics: Life , List At the start of the new millennium the Dalai Lama apparently issued eighteen rules for living. Since word travels slowly in the digital age these have only just reached me. Here they are. Take into account that great love and great achievements involve great risk. When you lose, don't lose the lesson.