Inspiration
Multicolr Search Lab - Idée Inc. Make a BIG-ASS MESSAGE. On the Record: Predictions - Long Bets. Discuss these predictions with the predictors themselves.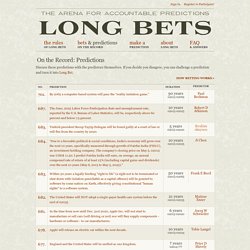 If you decide you disagree, you can challenge a prediction and turn it into Long Bet. How Betting Works » Some Useful Condescending Phrases. Fake Name Generator. Nine Things Successful People Do Differently - Heidi Grant Halvorson. Learn more about the science of success with Heidi Grant Halvorson's HBR Single, based on this blog post.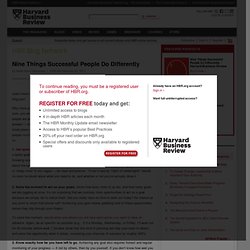 Why have you been so successful in reaching some of your goals, but not others? If you aren't sure, you are far from alone in your confusion. It turns out that even brilliant, highly accomplished people are pretty lousy when it comes to understanding why they succeed or fail. The intuitive answer — that you are born predisposed to certain talents and lacking in others — is really just one small piece of the puzzle.
In fact, decades of research on achievement suggests that successful people reach their goals not simply because of who they are, but more often because of what they do. Automatic Flatterer. Section IV - Impressive Phrases. The 48 Laws of Power. Background[edit] Greene initially formulated some of the ideas in The 48 Laws of Power while working as a writer in Hollywood and observing that today's power elite shared similar traits with powerful figures throughout history.[4] In 1995, Greene worked as a writer at Fabrica, an art and media school, and met a book packager named Joost Elffers.[6][9] Greene pitched a book about power to Elffers and six months later, Elffers requested that Greene write a treatment.[6] Although Greene was unhappy in his current job, he was comfortable and saw the time needed to write a proper book proposal as too risky.[11] However, at the time Greene was rereading his favorite biography about Julius Caesar and took inspiration from Caesar's decision to cross the Rubicon River and fight Pompey, thus inciting the Great Roman Civil War.[11] Greene would follow Caesar's example and write the treatment, which later became The 48 Laws of Power.[11] He would note this as the turning point of his life.[11]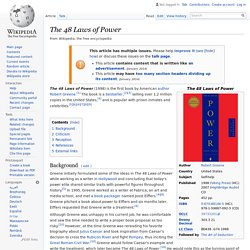 The 99 Percent - It's not about ideas. It's about making ideas happen. Fractal Animations. HOW TO TICK PEOPLE OFF. Reddit: the front page of the internet. The-Same-Place3.png (PNG Image, 400 × 563 pixels) Brain Pickings | Sustainability. 18 DECEMBER, 2012By: Maria Popova From Thomas Jefferson to the secret history of coffee, by way of urban farming and Downton Abbey.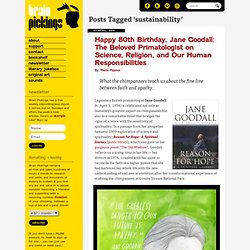 Following this year's best science books, art books, design books, philosophy and psychology books, children's books, history books, and graphic novels and graphic nonfiction, the 2012 best-of reading lists continue with the annual roundup of the year's favorite food-related reads. (Catch up on last year's omnibus here.) If you, like me, believed that Julia Child brought French cuisine to America, you're off — nearly two centuries off. It turns out we owe the feat to Thomas Jefferson, who in 1784 made a deal with one of his slaves, 19-year-old James "Jame" Hemmings, to apprentice him to one of France's finest chefs. 40 Belief-Shaking Remarks From a Ruthless Nonconformist. If there's one thing Friedrich Nietzsche did well, it's obliterate feel-good beliefs people have about themselves.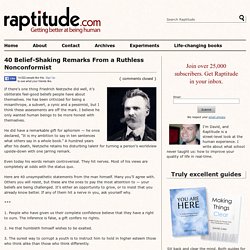 He has been criticized for being a misanthrope, a subvert, a cynic and a pessimist, but I think these assessments are off the mark. I believe he only wanted human beings to be more honest with themselves. He did have a remarkable gift for aphorism — he once declared, "It is my ambition to say in ten sentences what others say in a whole book." A hundred years after his death, Nietzsche retains his disturbing talent for turning a person's worldview upside-down with one jarring remark. The Dalai Lama's 18 Rules For Living. May 6, 2011 | 42 Comments » | Topics: Life, List At the start of the new millennium the Dalai Lama apparently issued eighteen rules for living.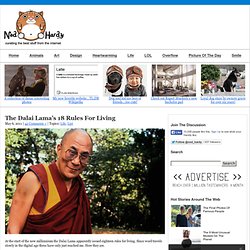 Since word travels slowly in the digital age these have only just reached me. Here they are. Take into account that great love and great achievements involve great risk. When you lose, don't lose the lesson.
---