RIA GWT
I know...I know...in the world of social networking like twitter, blogs just aren't cool anymore, right? Well every once and a while I want to share something that exceeds 144 characters, so I created SolamenteNiel, my blog.
SolamenteNiel - Posts tagged gwt
Update 7/8/2010 - MyEclipse for Spring 8.6 now generates full ready-to-run GWT applications based on MVP and UI Binder in minutes. Just point the scaffolding wizard at your database tables, Java beans, or JPA Entities.
SolamenteNiel - GWT: Model-View-Presenter Architecture Diagram
Par Olivier Duffez, Mercredi 13 décembre 2006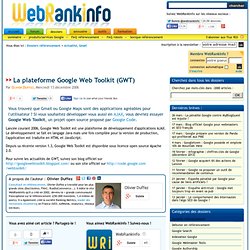 Google Web Toolkit, pour créer des applications en AJAX
GWT (pronounced 'gwit') is the official open source project for GWT releases 2.5 and onwards. This site houses links to the documentation, source code repository, issues list and information related to GWT roadmap and release. It is intended for developers interested in contributing to GWT, and for keeping people informed on new and upcoming changes to GWT, GWT related events and other news.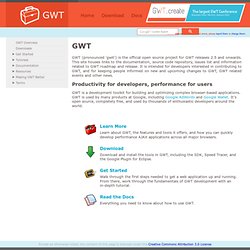 I-A. Remerciement▲ I-B. AJAX, ça nettoie les navigateurs ?▲
Google Web ToolKit - Club des décideurs et professionnels en Inf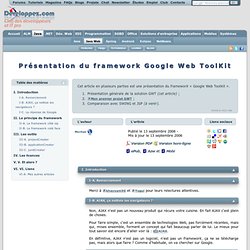 Mardi 26 janvier 2010 2 26 /01 /Jan /2010 21:24 Lancé en 2006, GWT (Google Web Toolkit) a révolutionné le développement d'applications web en Java.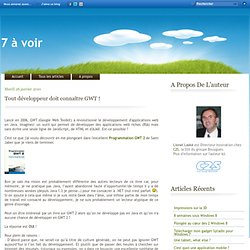 GWT ! - 7 à voir
Livre Programmation GWT 2 - S. Jaber - Développer des applicatio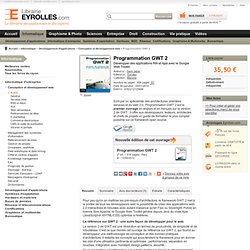 Pour peu qu'on en maîtrise les pré-requis d'architecture, le framework GWT 2 met à la portée de tous les développeurs web la possibilité de créer des applications web 2.0 interactives et robustes avec autant d'aisance qu'en Flex ou Silverlight. Publié en licence libre Apache, le Google Web Toolkit génère depuis Java du code Ajax (JavaScript et XHTML/CSS) optimisé à l'extrême. La référence sur GWT 2 : une autre façon de développer pour le web La version 2 de GWT est une révolution en termes de productivité, de simplicité et de robustesse.
Sami Jaber - Club des décideurs et professionn
GWT 2.1 Milestone 1 est maintenant disponible