RIA GWT
I know...I know...in the world of social networking like twitter, blogs just aren't cool anymore, right? Well every once and a while I want to share something that exceeds 144 characters, so I created SolamenteNiel, my blog.
SolamenteNiel - Posts tagged gwt
Update 7/8/2010 - MyEclipse for Spring 8.6 now generates full ready-to-run GWT applications based on MVP and UI Binder in minutes. Just point the scaffolding wizard at your database tables, Java beans, or JPA Entities.
SolamenteNiel - GWT: Model-View-Presenter Architecture Diagram
Par Olivier Duffez , Mercredi 13 décembre 2006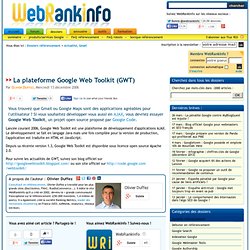 Google Web Toolkit, pour créer des applications en AJAX
Date de publication : 13/09/2006 Par Moritan Cet article en plusieurs parties est une présentation du framework "Google Web ToolKit". Présentation générale de la solution GWT (cet article) Mon premier projet GWT Comparaison avec SWING et JSP (à venir) I.
Google Web ToolKit - Club des décideurs et professionnels en Inf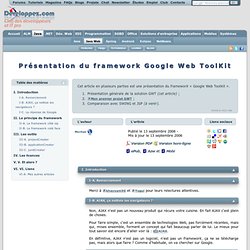 Mardi 26 janvier 2010 2 26 / 01 / Jan / 2010 21:24 Lancé en 2006, GWT (Google Web Toolkit) a révolutionné le développement d'applications web en Java.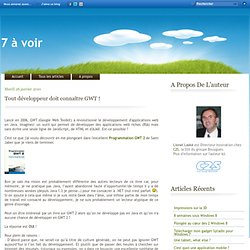 GWT ! - 7 à voir
Livre Programmation GWT 2 - S. Jaber - Développer des applicatio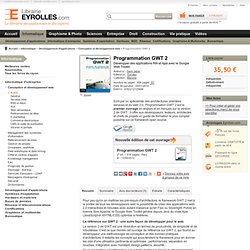 Pour peu qu'on en maîtrise les pré-requis d'architecture, le framework GWT 2 met à la portée de tous les développeurs web la possibilité de créer des applications web 2.0 interactives et robustes avec autant d'aisance qu'en Flex ou Silverlight. Publié en licence libre Apache, le Google Web Toolkit génère depuis Java du code Ajax (JavaScript et XHTML/CSS) optimisé à l'extrême. La référence sur GWT 2 : une autre façon de développer pour le web La version 2 de GWT est une révolution en termes de productivité, de simplicité et de robustesse.
Sami Jaber - Club des décideurs et professionn
GWT 2.1 Milestone 1 est maintenant disponible
With GWT 2.1 Milestone 1 , you are one step closer to being able to build business apps for the cloud as easily as ever. Using GWT's new data presentation widgets and MVP framework , you can create great looking web apps that run fast, whether you're interacting with 25 records or 25 million records. This is accomplished by designing the widgets to be extremely lightweight, using DIVs and HTML instead of composites and widgets, and an app framework that makes it easy to fetch only the data you need, when you need it. To make building web apps even faster, you can now use VMware's Spring Roo to create a functional app with a few commands.