RIA GWT
SolamenteNiel - Posts tagged gwt. I know...I know...in the world of social networking like twitter, blogs just aren't cool anymore, right?
Well every once and a while I want to share something that exceeds 144 characters, so I created SolamenteNiel, my blog. While I'm at it, I'm also going old school with a cheesy picture of myself on my blog. In this picture I'm pertending to be an IndyCar driver. The Genuitec and Skyway Software team has been busy the last few months putting the finishing touches on the next version of MyEclipse for Spring, and today it's available for download. Here's a summary of the new features and enhancements in MyEclipse for Spring 9.0 : SolamenteNiel - GWT: Model-View-Presenter Architecture Diagram. Update 7/8/2010 - MyEclipse for Spring 8.6 now generates full ready-to-run GWT applications based on MVP and UI Binder in minutes.
Just point the scaffolding wizard at your database tables, Java beans, or JPA Entities. You can learn more about it from the Generating Enterprise Class GWT applications for Spring post that I wrote on Genuitec blog. As I have noted in previous posts, lately I've been exploring GWT . In particular I've been studying the Model-View-Presenter pattern prescribed by Ray Ryan. I've been disecting the Large scale application development and MVP tutorial and associated sample project. Google Web Toolkit, pour créer des applications en AJAX. Par Olivier Duffez, Mercredi 13 décembre 2006 Vous trouvez que Gmail ou Google Maps sont des applications agréables pour l'utilisateur ?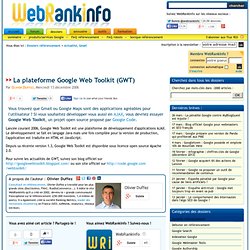 Si vous souhaitez développer vous aussi en AJAX, vous devriez essayer Google Web Toolkit, un projet open source proposé par Google Code. Lancée courant 2006, Google Web Toolkit est une plateforme de développement d'applications AJAX. Le développement se fait en langage Java mais une fois compilée pour la version de production, l'application est traduite en HTML et JavaScript. Google Web ToolKit - Club des décideurs et professionnels en Inf.
I-A.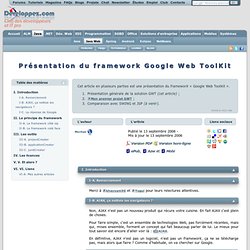 Remerciement▲ I-B. AJAX, ça nettoie les navigateurs ? ▲ GWT ! - 7 à voir. Mardi 26 janvier 2010 2 26 /01 /Jan /2010 21:24 Lancé en 2006, GWT (Google Web Toolkit) a révolutionné le développement d'applications web en Java.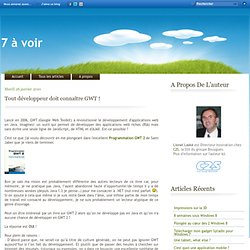 Imaginez: un outil qui permet de développer des applications web riches (RIA) mais sans écrire une seule ligne de JavaScript, de HTML et d'AJAX. Est-ce possible ? C'est ce que j'ai voulu découvrir en me plongeant dans l'excellent Programmation GWT 2 de Sami Jaber que je viens de terminer. Bon je sais ma vision est probablement différente des autres lecteurs de ce livre car, pour mémoire, je ne pratique pas Java, l'ayant abandonné faute d'opportunité/de temps il y a de nombreuses années (depuis Java 1.3 je pense…) pour me consacrer à .NET (nul n'est parfait. Livre Programmation GWT 2 - S. Jaber - Développer des applicatio. Pour peu qu'on en maîtrise les pré-requis d'architecture, le framework GWT 2 met à la portée de tous les développeurs web la possibilité de créer des applications web 2.0 interactives et robustes avec autant d'aisance qu'en Flex ou Silverlight.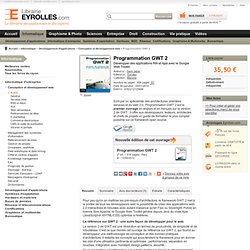 Publié en licence libre Apache, le Google Web Toolkit génère depuis Java du code Ajax (JavaScript et XHTML/CSS) optimisé à l'extrême. La référence sur GWT 2 : une autre façon de développer pour le web La version 2 de GWT est une révolution en termes de productivité, de simplicité et de robustesse. Sami Jaber - Club des décideurs et professionn. Gwt. GWT. GWT. GWT. Développement Google. GWT 2.1 Milestone 1 est maintenant disponible.
---