Applications
Définition QR code. Vous découvrez pour la première fois la technologie QR code ?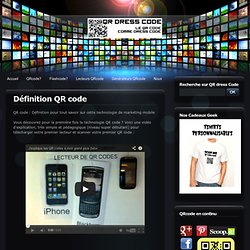 Voici une vidéo d'explication, très simple et pédagogique (niveau super débutant) pour télecharger votre premier lecteur et scanner votre premier QR code : Pour en savoir un peu plus, voici une présentation très simple et complète pour comprendre à quoi servent ces codes barres et pour quels usages. Pour tout savoir, voici une définition exhaustive de cette technologie. Le QR Code est un code-barre à deux dimensions (code 2D ou code matriciel) pouvant stocker jusqu'à 7 089 caractères numériques, 4 296 caractères alphanumériques ou 2 953 octets là où le code-barre "traditionnel" (code 1D) ne peut stocker qu'une vingtaine de caractères.
Google +
Art du blog. eBooks. eBusiness hints. Facebook. Flux Syndication. Google Apps. OwnCloud Overview. Business users are increasingly turning to cloud-based file sharing services because they are easy to set up and use.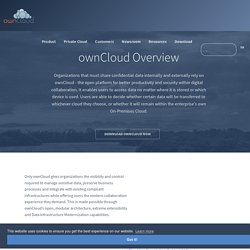 Employees can share files with co-workers, customers and partners, and synchronize documents across laptops, tablets, and mobile devices. Operating completely outside of IT's control, however, employees often place sensitive data on public servers and share it without oversight, leading to security and policy violations that cannot be prevented or tracked.
Référencement. Small & Medium Business Applications. Twitter. Web People & Services.
---