DIY + ART
Trippin' /
n18_w1150 | Flickr : partage de photos !
Ashore Thing /
Patterson Maker
Art & Design / By Katie Daisy
luxs0mwjxA1r3z9l0o1_500.jpg (Image JPEG, 500x419 pixels)
Chic of the Sea Susie 4 par gretchenkellystudio sur Etsy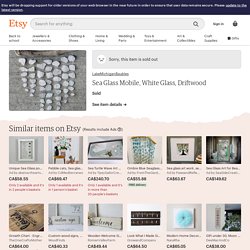 This sea glass mobile was made from pieces of beach glass and driftwood found on the shores of Lake Michigan in South Haven, MIchigan. All pieces are surf tumbled and smooth. Each piece of tumbled glass is hand tied with white fishing line. The colors of the glass is white/opaque. Dimensions:- Driftwood is 13.5 inches long- 7 rows of glass, the longest row in the center hangs 12 inches long- 56 total pieces of beach glass
Sea Glass Mobile White Glass Driftwood par LakeMichiganBaubles
Bright and Shiny Picture Frames Set Ornate par melissap6908 sur Etsy
October 17th, 2011 I've been wanting to try porcelain paint for a while, and it's just as amazing as I anticipated. You have to give it a try. The holidays are coming up, and hand painted coffee/cocoa mugs would make great gifts! Supplies: porcelain mug (mine is from CB2) Pebeo Porcelaine 150 outliner (available at Dick Blick) There are transparent porcelain paints that you apply with a brush and outliners which are thicker and opaque. If you want to achieve the ink-like look that I did, go with an outliner.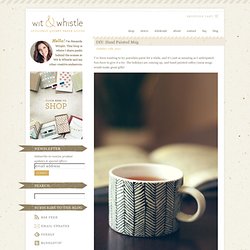 Tut Tuesday: Neon's where it's at. : The Proper Pinwheel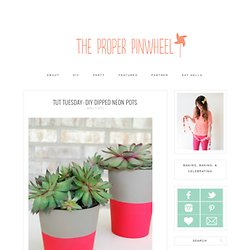 You guys, I've never been a huge fan of pink. But HOT PINK? I can get on board with that. These pots were so fun and ridiculously easy to make.
20618110763560709_VDEVfD0C.jpg (Image JPEG, 800x1653 pixels)
DIY & How To's / meadowtree
Video how-to: Pinata Cookies Ingredients: 1 cup sugar1 cup powdered sugar1 cup butter1 cup vegetable oil2 eggs1 teaspoon cream of tartar1 teaspoon salt 1 teaspoon almond extract1 teaspoon baking soda5 cups flour1 tablespoon vanillaMini M&M candies1/2 cup powdered sugar (frosting)2 teaspoons milk (frosting) Directions to make piñata sugar cookies: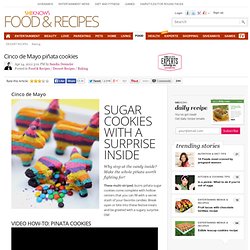 DIY & How To's / Customize your favorite Roxy tee with fringe and beads!
Bridal Showers | Martha Stewart Weddings
DIY & How To's / DIY rope containers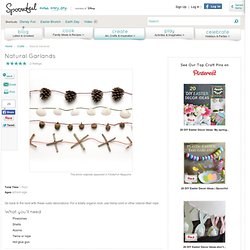 Natural Garlands | Nature Crafts
This photo originally appeared in FamilyFun Magazine Total Time 1 hour Ages school-age Go back to the land with these rustic decorations. For a totally organic look, use hemp cord or other natural-fiber rope. What you'll need