Philosophy
The Gifford Lectures. Big Questions Online | Periodicals. Justice with Michael Sandel. Philosophy Experiments. Test your Morals, Values & Ethics.
How to believe. Notre Dame Philosophical Reviews. Less Wrong. Materiały - Portal Studentów IF UW. Kliknij aby edytować zawartość strony.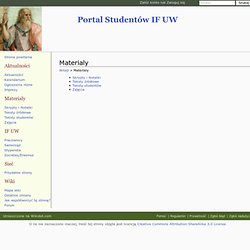 Click here to toggle editing of individual sections of the page (if possible). Watch headings for an "edit" link when available.
Works
Encyclopedias.
---