Best Reads
The Guardian's Best Books
The 6th Floor's Best Books
AP Photo/Knopf/Brigitte Lacombe Joan Didion, author of "The Year of Magical Thinking" and "Slouching Towards Bethlehem," among other books. Inspired by The Guardian's recent list of the 100 greatest nonfiction books , we here at the magazine decided to create our own list. Dispensing with all pretense to rigor — it's a list, silly! — we simply asked each member of the staff to pick their five favorites. The complete list is after the jump. But here a few details: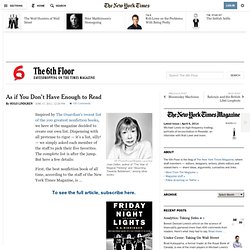 Writing her lover's "autobiography" proved a witty way for American author Gertrude Stein to detail her own life as Parisian writer, salon host and arts patron. Ostensibly, readers can take in the book, published in 1933, as Stein writing about Alice B. Toklas (which is what the title suggests) or as Toklas "writing" about Stein (which is what the book actually is). Either way, The Autobiography of Alice B. Toklas was groundbreaking in its experimentation with form: an autobiography written by another person.
All-TIME 100 Nonfiction Booka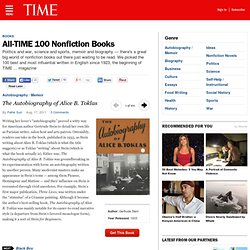 Since the "100 Best" story first broke in The New York Times on Monday, July 20, 1998, all kinds of opinions about the list – and theories about the Modern Library's purpose in concocting such a contest of sorts – emerged. The goal of the "100 Best" project was to get people talking about great books. We succeeded beyond our wildest imaginings — more than 400,000 avid readers rushed online to cast votes for their favorite books and the students of the Radcliffe Publishing Course quickly responded with rival list of 100 Best Novels. The reader's poll for the best nonfiction published in the English language since 1900 opened on April 29, 1999 and closed on September 30, 1999 with a total of 194,829 votes cast.
Top 100: Modern Library