Football
Welcome to CrossFit: Forging Elite Fitness. Welcome to Tacticalsoccer. Web for the soccer trainer with soccer drills and trainings of global soccer. A methodology that includes tactics, technique and training. De Lille à Montpellier - Tableau Noir. Sauf cataclysme, le PSG attendra.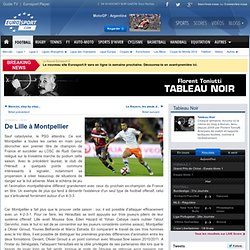 Ce soir, Montpellier a toutes les cartes en main pour décrocher son premier titre de champion de France et succéder au LOSC de Rudi Garcia, relégué sur la troisième marche du podium cette saison. Avec le précédent lauréat, le club de l'Hérault a quelques points communs intéressants à signaler, notamment sa propension à créer beaucoup de situations de danger sur le but adverse. Mais le schéma de jeu et l'animation montpelliéraine diffèrent grandement avec ceux du prochain ex-champion de France en titre.
Un exemple de plus qui tend à démentir l'existence d'un seul type de football offensif, celui qui s'articulerait forcément autour d'un 4-3-3. Car Montpellier a fait plus que le prouver cette saison : oui, il est possible d'attaquer efficacement avec un 4-2-3-1. E-foot - Blog Football - Jeu, analyse et tactique.
---