Sewing
Craft blog : Tutorial: Hand Sew Felt Using Whip Stitch. When you read this tutorial, my instructions might seem terribly obvious.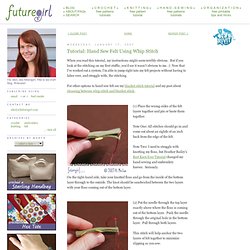 But if you look at the stitching on my first stuffie, you'd see it wasn't obvious to me. :) Now that I've worked out a system, I'm able to jump right into my felt projects without having to labor over, and struggle with, the stitching. For other options to hand sew felt see my blanket stitch tutorial and my post about choosing between whip stitch and blanket stitch. Old MacDonald Puppet Tutorial and Pattern. EDITED NOTE: A couple of you have reminded me that I didn't show a picture of poor Old MacDonald.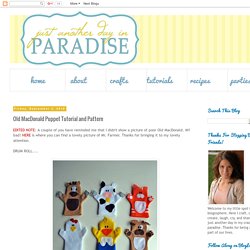 MY bad! HERE is where you can find a lovely picture of Mr. Farmer. Thanks for bringing it to my lovely attention. Here is it! 3 Little Pigs Finger Puppets -- TUTORIAL. NOTE: I updated my pattern upload so it will print correctly!!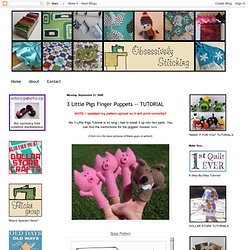 My 3 Little Pigs Tutorial is so long I had to break it up into two parts. You can find the instructions for the piggies' houses here. Quiet Time - It Can Be Done! Part 1. Thanks to all you wonderful people who have left such sweet compliments on my juggling new baby + 3 kids + crafting + homeschooling.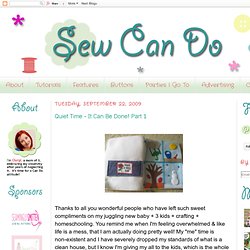 You remind me when I'm feeling overwhelmed & like life is a mess, that I am actually doing pretty well! My "me" time is non-existent and I have severely dropped my standards of what is a clean house, but I know I'm giving my all to the kids, which is the whole point, right? One thing that has made that easier was to compile a bunch of fun activity stuff in the weeks before baby - that has been a lifesaver with the demands on my time & helping my kids not feel "baby attention resentment" as much. I found some cool stuff like Wikki Stix, Brain Noodles & invisible ink activity books, but I also wanted to make something special for them. So, I did a Quiet Book. Craft blog : Tutorial: Hand Sew Felt Using Blanket Stitch.
Tutorial: Hand Sew Felt Using Blanket Stitch This post actually contains two tutorials involving the blankets stitch:How to sew two pieces of felt together using blanket stitchHow to sew an edging using blanket stitchThere are also some helpful extras, like:How to start if you aren't going all the way aroundHow to handle cornersHow to stitch around circlesWhat to do if you run out of floss in the middleIt's a lot to pack into one post, but they all involve the blanket stitch, so I thought they should all be together.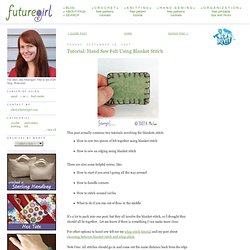 Let me know if there is something I can make more clear. How To Videos. Stuffed Animal to Puppet -- TUTORIAL. Today I want to show you a very easy, very inexpensive way to make a puppet out of a stuffed animal.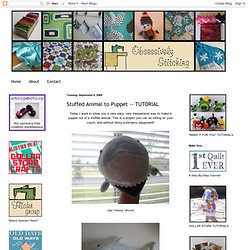 This is a project you can do sitting on your couch, and without fancy-schmancy equipment! (Say "cheese," Bruce!)
---