GeekStuff
Technology News and Analysis. Computerworld - IT news, features, blogs, tech reviews, career advice. Geeks to Go! – Free help from tech experts. Welcome to Geeks to Go forums.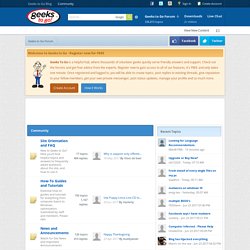 Create an account now to gain access to all our features. Once registered and logged in, you will be able to create topics, post replies to existing topics, give reputation to your fellow members, get your own private messenger, post status updates, manage your profile and so much more. Best of all, registration and all assistance is 100% free! Geeks to Go! – Free help from tech experts. How-To Geek - Computer Help from your Friendly How-To Geek.
[Geeks are Sexy] Technology News - We make technology sexy! Geek News. Geek News Technical News and Podcasts. Geek.com. Cloud Storage Faceoff: Windows Live SkyDrive vs. Dropbox vs. Amazon Cloud Drive. The Best Way to Store Stuff in the Cloud. Dropbox. How to Organize Your Computer Documents / Creating a paperless office. How to organize your computer and still remember where you put everything — CHNL by Chanel. If you're like me, your desktop probably doesn't look like this most of the time.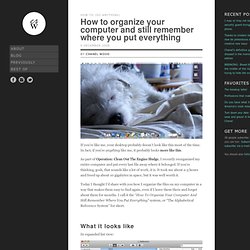 In fact, if you're anything like me, it probably looks more like this. As part of Operation: Clean Out The Engine Sludge, I recently reorganized my entire computer and put every last file away where it belonged. If you're thinking, gosh, that sounds like a lot of work, it is.
---