GeekStuff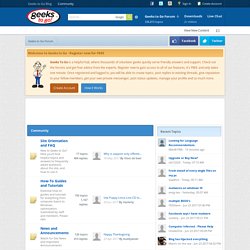 Geeks to Go! – Free help from tech experts
Welcome to Geeks to Go forums. Create an account now to gain access to all our features. Once registered and logged in, you will be able to create topics, post replies to existing topics, give reputation to your fellow members, get your own private messenger, post status updates, manage your profile and so much more. Best of all, registration and all assistance is 100% free!
In GNU/Linux For Newbies of this guide, you saw some of the basic stuff and a little bit of history of what GNU/Linux is all about. Now, lets see some basic Linux terms you should know about. 1. Kernel The kernel is a program that constitutes the central core of a computer operating system.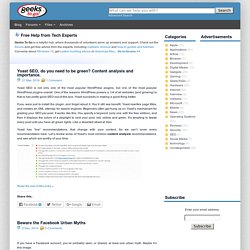 Geeks to Go! – Free help from tech experts
Make a MacGyver-Style Flashlight in Minutes [DIY Project] Do you enjoy working on DIY projects and would love to get your kids interested in them as well? Then today's tutorial video is a great place to begin. This "starter" DIY project is perfect for the kids to work on over the weekend as they make their very own MacGyver-style flashlight! Spotify has Removed the Streaming Time Limit on All Free Accounts Depending on your location, you may have found yourself strictly limited on the amount of time you could listen to Spotify each month after the first six months had passed with your free account.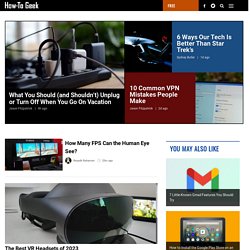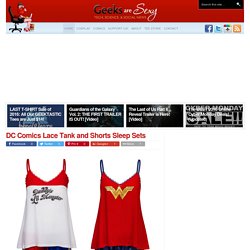 Apple had already agreed to settle a class action suit over children making in-app purchases without parental consent. Now it's agreed to pay at least $32.5 million to settle a government action. The case again involves the way Apple changed its app store policies such that once you enter your password you (or more concerningly your children) can make in-app purchases during the next 15 minutes without having to type in the details again. It took 45 days after this change before Apple put in the option to block this 15 minute window. That left plenty of opportunity for kids to make purchases as pricey as $99.99 for a virtual wagon of Smurfberries in Smurf's Village. Last February Apple settled a class action suit by agreeing to refund any in-app purchases made during this specific 45-day period.
Geek News
A mere twelve and a half years after its launch, Microsoft has finally pulled the plug on Windows XP officially ending any further support for the long lived and much beloved operating system. The OS lived far longer than Microsoft had ever hoped. Reaching new heights with the failed launch of Windows Vista and still holding a strong market share even after Windows 7 and Windows 8 were launched.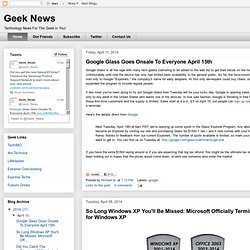 In the last few months, Motorola has returned to the smartphone spotlight with the Moto X and the Moto G. While the X currently isn't available in the UK (though there's a hotly-tipped press event in London this week), the Moto G follows the underrated Razr, Razr Maxx and variants that have been released since 2011, eschewing the Droid slider in favour of the candybar handset while stepping away from the carbon-fibre of the Razrs. In short, there's a new design style in town. Not content with a new look, Motorola are pricing the Moto G very aggressively, coming in at around GB£135 on the street, unlocked and off-contract. The Nexus line has always been competitively priced and it might be Motorola is following suit at the entry-level. I hesitate to say budget, because you'll see that the Moto G is anything but.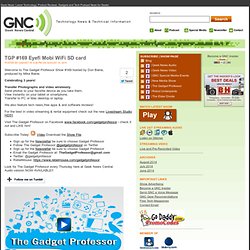 Cloud Storage Faceoff: Windows Live SkyDrive vs. Dropbox vs. Amazon Cloud Drive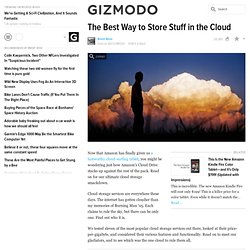 So, of all of these different services, do any of them allow you to share full folders WITHOUT making the person viewing them sign up for a service? One of the things I liked about iDisk (still like for the time being) is the fact that you have a public folder that anybody can access (no password, logging in, etc.). I need it for an educational website, and now that iDisk is going away, I am stuck trying to find ways to get sugarshare, dropbox, and other cloud storage to work the same way. I've been using dropbox for personal home/work sharing and just installed sugarshare because the writeup sounded like it was capable of doing this. Unfortunately, neither allow full folder sharing without going member to member (to my knowledge).
The Best Way to Store Stuff in the Cloud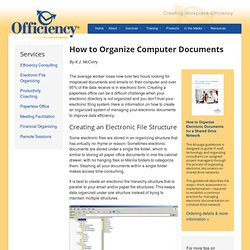 By K.J. McCorry The average worker loses now over two hours looking for misplaced documents and emails on their computer and over 95% of the data receive is in electronic form. Creating a paperless office can be a difficult challenge when your electronic directory is not organized and you don't trust your electronic filing system. Here is information on how to create an organized system of managing your electronic documents to improve data efficiency. Creating an Electronic File Structure
How to Organize Your Computer Documents / Creating a paperless office
How to organize your computer and still remember where you put everything — CHNL by Chanel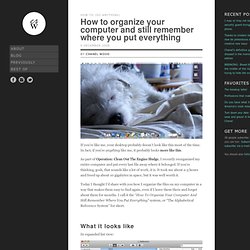 If you're like me, your desktop probably doesn't look like this most of the time. In fact, if you're anything like me, it probably looks more like this. As part of Operation: Clean Out The Engine Sludge, I recently reorganized my entire computer and put every last file away where it belonged. If you're thinking, gosh, that sounds like a lot of work, it is.