GeekStuff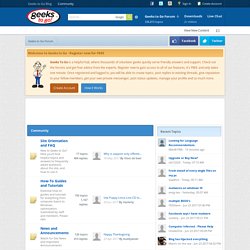 Geeks to Go! – Free help from tech experts
Welcome to Geeks to Go forums. Create an account now to gain access to all our features. Once registered and logged in, you will be able to create topics, post replies to existing topics, give reputation to your fellow members, get your own private messenger, post status updates, manage your profile and so much more. Best of all, registration and all assistance is 100% free!
In GNU/Linux For Newbies of this guide, you saw some of the basic stuff and a little bit of history of what GNU/Linux is all about. Now, lets see some basic Linux terms you should know about. 1. Kernel The kernel is a program that constitutes the central core of a computer operating system.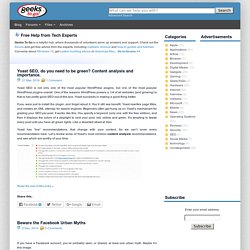 Desktop Fun: Castles Wallpaper Collection Series 2 Castles stir the imagination, leading us to wonder about their history, the people that lived in them, and the events they were witness to. Explore these awesome stone treasures from the past on your desktop with the second in our series of Castles Wallpaper collections. Ubuntu 14.04 LTS Stable is now Available for Download The long wait is finally over…the stable release of Ubuntu 14.04 LTS has arrived and is now available for download in ten different 'flavors'. So grab a copy of your favorite distributions and get ready for a weekend full of Linux-based fun!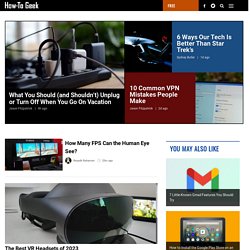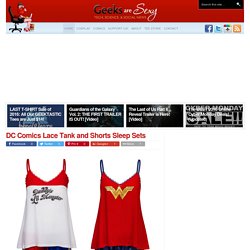 You know how something is so outrageous, it's just gotta be true? Well, this concept is so outrageous, it totally exists. From what I can tell, BLACKSOCKS uses a "sorter" and an app to determine a) which sock goes with which sock; b) how many times each sock has been washed; and c) how 'black' each sock is. The website also offers "sockscriptions," as well as undershirts and underwear, but as far as this goes…does this seem like more trouble than its worth? I mean, I sort my boyfriend's black socks often and it's not THAT big of a deal… [BLACKSOCKSCOM / YouTube]
Geek News
A mere twelve and a half years after its launch, Microsoft has finally pulled the plug on Windows XP officially ending any further support for the long lived and much beloved operating system. The OS lived far longer than Microsoft had ever hoped. Reaching new heights with the failed launch of Windows Vista and still holding a strong market share even after Windows 7 and Windows 8 were launched.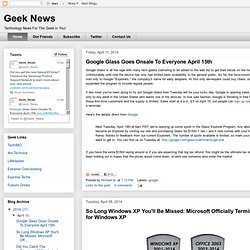 Geek News Technical News and Podcasts
Mushroom Networks,a company that is based in San Diego, California, has joined the NewTek Developer Network. This enables Mushroom Networks' Streamer 3G/4G wireless bonding device to be fully integrated with NewTek's line of TriCaster multi-media live video production cameras. The Mushroom Network's Streamer can bond up to eight cellular data cards to enable fast and reliable live streaming.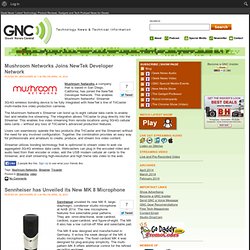 Cloud Storage Faceoff: Windows Live SkyDrive vs. Dropbox vs. Amazon Cloud Drive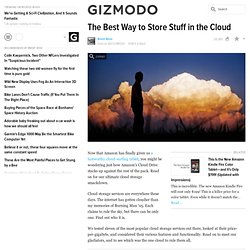 So, of all of these different services, do any of them allow you to share full folders WITHOUT making the person viewing them sign up for a service? One of the things I liked about iDisk (still like for the time being) is the fact that you have a public folder that anybody can access (no password, logging in, etc.). I need it for an educational website, and now that iDisk is going away, I am stuck trying to find ways to get sugarshare, dropbox, and other cloud storage to work the same way. I've been using dropbox for personal home/work sharing and just installed sugarshare because the writeup sounded like it was capable of doing this. Unfortunately, neither allow full folder sharing without going member to member (to my knowledge).
The Best Way to Store Stuff in the Cloud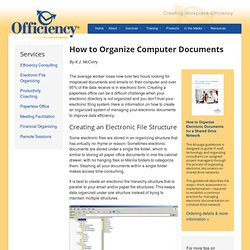 The average worker loses now over two hours looking for misplaced documents and emails on their computer and over 95% of the data receive is in electronic form. Creating a paperless office can be a difficult challenge when your electronic directory is not organized and you don't trust your electronic filing system. Here is information on how to create an organized system of managing your electronic documents to improve data efficiency. Creating an Electronic File Structure Some electronic files are stored in an organizing structure that has virtually no rhyme or reason. Sometimes electronic documents are stored under a single file folder, which is similar to storing all paper office documents in one file cabinet drawer, with no hanging files or Manila folders to categorize them.
How to Organize Your Computer Documents / Creating a paperless office
How to organize your computer and still remember where you put everything — CHNL by Chanel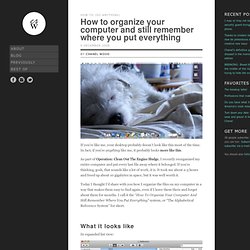 If you're like me, your desktop probably doesn't look like this most of the time. In fact, if you're anything like me, it probably looks more like this. As part of Operation: Clean Out The Engine Sludge, I recently reorganized my entire computer and put every last file away where it belonged. If you're thinking, gosh, that sounds like a lot of work, it is.