Photography
Amazing time-lapse video shows how recolorization of battered old sepia photos can make them look as though they were taken yesterday. Reddit users have been submitting requests for old photos to be fixed upIncredible before and after shots show how one user's grandmother appears to have been brought back to life thanks to digital imaging technology By Helen Collis Published: 08:15 GMT, 22 July 2013 | Updated: 11:25 GMT, 22 July 2013.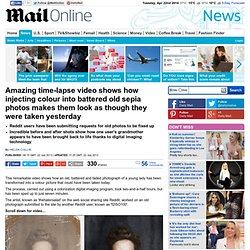 Perfect for a trip down memory lane! The suitcases beautifully adorned with scenes of holidays past. Yuval Yairi captured the original photographs by travelling around Israel in his old VW van Scenes include crumbling buildings, ruins, a lone woman gazing at a ship and a building shot with the lights onHe then imprinted the images of picturesque locations onto the leather exteriors of old suitcases By Jaymi Mccann Published: 14:12 GMT, 4 July 2013 | Updated: 14:12 GMT, 4 July 2013.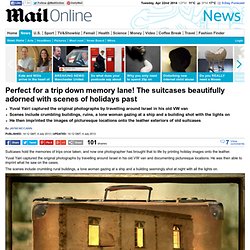 Tiny Lego tourist captures beauty of PORTSMOUTH as he is pictured exploring city in all weathers. Photographer Andrew Whyte took photographs all around the cityThe 38-year-old wanted to introduce a common theme to his photographsThe Lego man is snapped at the beach, trainspotting and shopping By Steve Nolan Published: 10:41 GMT, 26 February 2013 | Updated: 11:30 GMT, 26 February 2013 With its grey shingle beach, often deserted seafront promenades and rows upon rows of terraced houses, Portsmouth is hardly known as Britain's most picturesque city.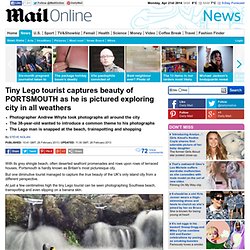 'My name is Igmar, no Enema!': Hilarious Starbucks cup spelling fails. By Daily Mail Reporter Published: 03:29 GMT, 26 February 2013 | Updated: 13:43 GMT, 26 February 2013 In a bustling coffee shop at peak hours, it can be hard to hear over the din of caffeine addicts craving a fix to start their day.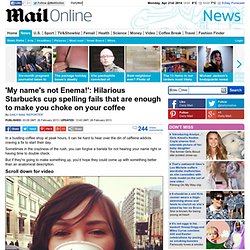 Sometimes in the craziness of the rush, you can forgive a barista for not hearing your name right or having time to double check. But if they're going to make something up, you'd hope they could come up with something better than an anatomical description. Faces of the Victorian underworld: They're the first criminal mugshots, taken 150 years ago - in the days when punishment was swift and brutal. Mugshots were created because written descriptions were unreliablePictures of Bedford Prison inmates offer glimpse into 'working class life' By Christopher Stevens Published: 23:09 GMT, 13 February 2013 | Updated: 23:09 GMT, 13 February 2013.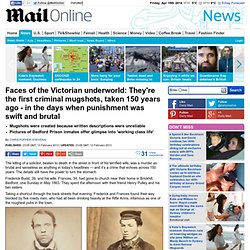 How to Make An Inexpensive Light Tent – DIY. The photographer at Auschwitz: Man forced to take these chilling images of Jewish prisoners was haunted until his death at 94. Photographer Wilhelm Brasse died this week aged 94He had taken up to 50,000 photos in Auschwitz for the NazisMr Brasse hid negatives which were used to convict the very Nazis who commissioned them By Alex Ward Published: 16:20 GMT, 27 October 2012 | Updated: 07:57 GMT, 29 October 2012 These chilling images of a young Jewish girl at Auschwitz are among thousands that have haunted a Nazi photographer all his life.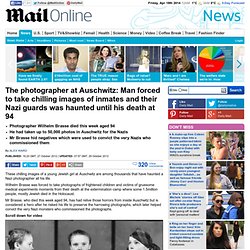 Ghosts, giants and fairies: classic faked photographs – in pictures | Art and design. Streets of London: Spitalfields a century ago - in pictures | Art and design. Dear Photograph. New York films recreated in pictures of famous locations. By Daily Mail Reporter Published: 01:09 GMT, 17 September 2012 | Updated: 02:45 GMT, 17 September 2012 Even if it's your first time in New York, the place can feel strangely familiar thanks to the hundreds of movies and TV shows filmed every year in the city's streets.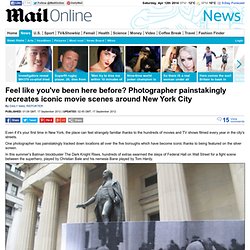 Magical photos show lumberjacks among the California redwoods. By Daily Mail Reporter Published: 03:22 GMT, 5 September 2012 | Updated: 15:56 GMT, 5 September 2012 Dramatic photos show the measure of a man in contrast to the enormity of nature.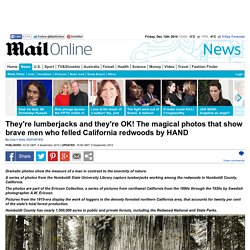 Talk about gatecrashing! Tourist snap ruined as background cyclist slams into lamppost... and other amazing photobombings. By Daily Mail Reporter Published: 15:46 GMT, 3 September 2012 | Updated: 17:02 GMT, 3 September 2012 They are the moments inadvertently caught on camera that turn an ordinary photo into comedy gold.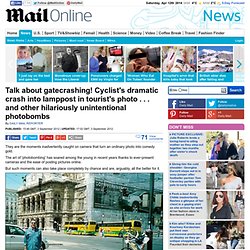 The art of 'photobombing' has soared among the young in recent years thanks to ever-present cameras and the ease of posting pictures online. But such moments can also take place completely by chance and are, arguably, all the better for it. Ouch! Early photography on Mars and on Earth | Tyler Green: Modern Art Notes. If it feels like you've seen NASA's latest photos from Mars before, that's because you have.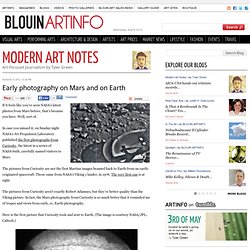 Well, sort of. In case you missed it, on Sunday night NASA's Jet Propulsion Laboratory published the first photographs from Curiosity, the latest in a series of NASA-built, carefully named visitors to Mars. The pictures from Curiosity are not the first Martian images beamed back to Earth from an earth-originated spacecraft. Those came from NASA's Viking 1 lander, in 1976. The Well-Worn Developer Trays of Famous Photographers. Photographer John Cyr has an ongoing project titled Developer Trays that features photographs of developer trays used by famous photographers. He writes, I am photographing available developer trays so that the photography community will remember specific, tangible printing tools that have been a seminal part of the photographic experience for the past hundred years.
By titling each tray with its owner's name and the years in which it was used, I reference the historical significance of these objects in a minimal manner that evokes thought and introspection about what images have passed through each individual tray. Sally Mann: Arnold Newman: 50 Time Saving Photoshop Actions for Enhancing Photos. 353 shares Inspiring Architecture and City Photography I believe that architecture and general city landscapes are pretty inspiring. Fully-Functional Twin-Lens Reflex Camera Created Using LEGO Bricks. After seeing the LEGO large format camera we featured last year, Norway-based photographer Carl-Frederic Salicath set out to create his own LEGO camera. Rather than go with large format, he decided to build a more complicated Rolleiflex-style twin-lens reflex camera that uses 120 film.
Aside from LEGOs, he also used some matte ground glass, a mirror, and lenses taken from a binocular. Here's a diagram showing how the camera works, and a few more views of the camera from different angles: Cambridge Uni to complete Charles Darwin's last (and most creepy) experiment into human emotion. The street views Google wasn't expecting you to see – in pictures | Art and design. Women's mug shots from 1920s Australia. Spit-Take « AwkwardFamilyPhotos.com 02/19/2012.
---