Days gone by
Get flash to fully experience Pearltrees
The pictures give a glimpse of what life was like in Korea at the end of the turn of the 20th century The nation, then united, was in the midst of huge upheaval with a 500-year-old dynasty about to lose power The decades that followed set the scene for the division into North and South Korea and the bloody Korean War
Face protectors were given to tank operators at Battle of Cambrai in 1917 It was the first battle that the new machines were deployed en masse in war By Charles Walford PUBLISHED: 12:12 GMT, 4 December 2012 | UPDATED: 12:48 GMT, 4 December 2012
INCONVENIENT PEOPLE BY SARAH WISE (Bodley Head £20) By Bel Mooney
By William Cook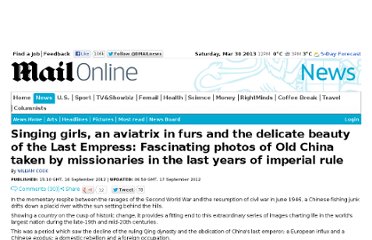 Vintage advertisements show just how far medicine and advertising have come since the introduction of regulation By Kerry Mcqueeney PUBLISHED: 12:25 GMT, 4 September 2012 | UPDATED: 06:59 GMT, 5 September 2012
PUBLISHED: 16:46 GMT, 28 July 2012 | UPDATED: 16:48 GMT, 28 July 2012 As attention turns to Britain's capital, it seems the world - for the next two weeks at least - revolves around London. But there was a time when it was the planet's most important city every day of the year, as the hub of the empire and home of industrial innovation.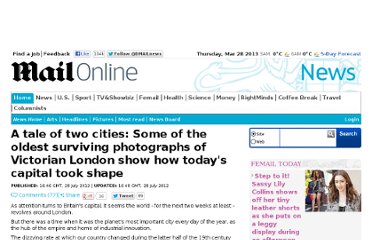 By Daily Mail Reporter PUBLISHED: 20:47 GMT, 13 March 2012 | UPDATED: 15:22 GMT, 15 March 2012 By modern standards, the burlesque dancers of the 1890s are barely deserve notice for their attire - tights covering their legs from foot to waist, many wore long sleeves to cover their arms and nary a spot of cleavage to be found.
By Lee Moran UPDATED: 16:01 GMT, 28 February 2012
By Leon Watson UPDATED: 12:07 GMT, 20 February 2012 They're incredible by today's standards, but once upon a time these adverts were perfectly acceptable. From an ad that claims smoking is healthy to one telling mothers they should give Coca-Cola to their babies, these shocking posters give a fascinating insight into a time gone by.